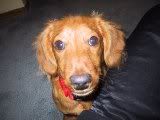 I've spent the last 24 hours worried about my sweet dog, who was grabbed by another dog, a big, aggressive creature, hiking in Cedar Falls Park yesterday. The big dog clamped down on Jack's neck and shook him nearly to death. Instinctive, mindless killing. To get the dog to drop Jack, I had to kick it in the stomach. I kicked as hard as I could in a panic, aiming for the abdomen. It worked. I was able to snatch Jack away in the second he was let go. He bit me in his own panic of becoming a bully's rag doll.
The big dog was on a leash held by a 30-something woman who couldn't control anything. Nor could the man who was with her. I'm sure they didn't mean to almost kill Jack. They were just exercising their personal freedom to be irresponsible.
Next time I walk by another dog on a trail, I'll pick Jack up and carry him past. Live and learn, if you're lucky.


Had I been carrying a handgun in my civic duty to arm America, I would have shot that big dog. Then the man would have shot me. Then my wife would have shot him. Then the woman holding the leash would have shot my wife. She'd get clean away.