She was the love of my life. She wanted to marry me, but no way Jose. I had just gotten divorced and was moving into my wild oats phase. We had two July 4th parties together and then we broke up. Ka-pow.
Five years later on July 4th, she sent me a letter. Before it arrived, I called her out of the blue. She wasn't home. I called her father. He said she lived with another man in Wisconsin. He gave me her new number. I call her there. I asked her to marry me. She said maybe.
By August she said yes. We had a December wedding. That was 18 years ago. Turns out I was the love of her life, too.
It's good to have a back up reason to celebrate the 4th.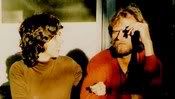 Jane and James
25 years ago