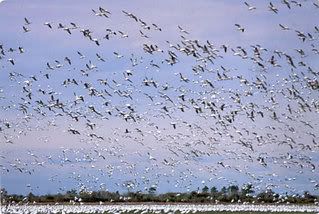 I had a good conversation today with a DC staffer about how and when Congressional action might be taken regarding the Navy's proposed outlying landing field on Site C. Here's the scoop.
1. There will be no formal action until the defense appropriations bill comes up for consideration in April and May. I specifically asked if a prohibition against using current funds for Site C could be included as an amendment on some other bill, and the answer was "probably not."
2. The Navy will be issuing a Supplemental Environmental Impact Statement (SEIS) in late February, with public hearings soon thereafter. Everyone expects they are again reverse engineering the process in favor of Site C, which means they're still a bunch of liars.
3. New requirements placed on the Navy by the courts and by Congress include: a) working with state officials to identify and evaluate other sites, and b) working with the Fish and Wildlife Service to evaluate the suitability of any proposal.
This is where participation by Governor Easley, Lt. Gov. Perdue, State Treasurer Moore, and the NC General Assembly come into play. If our elected official present a united front that Site C is not an appropriate location for the OLF, the Navy will have a hard time making its case. We need to lean on NC officials to weigh in strongly against Site C.
This is also an opportunity for the Fish and Wildlife Service to take a stand. Officials at FWS have already been chastised for criticizing the Navy's plan - and there will be intense pressure on them again.
4. Price and Butterfield are already out front on this, but we also need support from the rest of the Congressional delegation.
THOMAS: Can you find out where Congressman Jones stands on this?
WFC: Can you find out where Congressman Hayes stands on this?
MOMO: Can you find out where Congressman Shuler stands on this?
DQ: Can you find out where Congressman McHenry stands on this?
STAN: Can you find out where Congressman McIntyre stands on this?
SD: Can you find out where Congresswoman Myrick stands on this?
ANYONE: Can you find out where Congressman Etheridge stands on this?
5. The most important thing we can do is help Senator Dole, Senator Burr and Representative Jones understand that support for this OLF is not only a slap in the face of North Carolina's family farmers, but it is also reckless. Bird strikes are a clear and present danger and the US Navy would be putting pilots' lives at risk by moving forward with this plan. Dole initially supported this plan, but perhaps she has seen the error of her ways. Call her office and ask where she stands now. I don't know where Burr has been on this issue.
~~~~~~~~~~~~~~~~~~~~~~~~~~~~~~~~~~~~~~~
I'm not a political organizer . . . and I don't know the niceties of getting things moving like this. But we need all the help we can get. Because if NC elected officials roll over on this, the Navy will ram its deceptive SEIS right through the system claiming the OLF is critical to their readiness . . . and we'll all be screwed.
~~~~~~~~~~~~~~~~~~~~~~~~~~~~~~~~~~~~~~~
NOTE TO REPORTERS: Many reporters have covered this story off and on. With the newest SEIS lies being written as we speak, this will quickly be on the agenda again. Please press to find out where elected officials stand on this issue. Are they for family farmers and pilot safety, or are they going to let the Navy run roughshod over North Carolina's environment and families.
~~~~~~~~~~~~~~~~~~~~~~~~~~~~~~~~~~~~~~~
There is a persistent rumor that the Navy was involved in illegally trapping red wolves on the proposed OLF site. We need confirmation of that rumor. We need whoever saw that happening to go public with it. I was told that the whistle-blower protection would apply here. If the person who saw this is an FWS employee, he/she would be protected.
~~~~~~~~~~~~~~~~~~~~~~~~~~~~~~~~~~~~~~~
There are also persistent rumors of strong-arm tactics by the Navy in threatening farmers. These too need to be made public.
~~~~~~~~~~~~~~~~~~~~~~~~~~~~~~~~~~~~~~~
Finally, we will need the NC General Assembly to pass a resolution against the proposed OLF on Site C. That resolution should be initiated by representatives and senators from the Site C counties.
~~~~~~~~~~~~~~~~~~~~~~~~~~~~~~~~~~~~~~~
I know this is a lot, but I wanted to do a brain dump to get it all out on the table. Time to get crackin'.