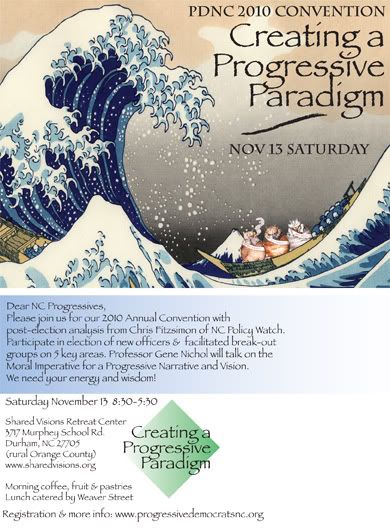 Progressive Democrats of NC Annual Meeting
Creating a Progressive Paradigm
"A paradigm shift occurs when a question is asked inside the current
paradigm that can only be answered from outside it".
Marilee Goldberg, The Art of the Question.
Saturday, November 13
Shared Visions Retreat Center
3717 Murphey School Rd.
Durham, NC 27705 (rural Orange County)
www.sharedvisions.org
Lunch catered by Weaver Street Market Hillsborough
8:30 am Set-up
9:00 am Registrations (have coffee, tea, juice, water, fruit, bagels and pastries available)
9:30 am Welcome and Introductions
9:45 am Elections of Officers and Inductions into Advisory Committee
10:15 am Gene Nichol on The Moral Imperative for a Progressive Narrative and Vision
11:15 am Break
11:30 am Chris Fitzsimon on the election (title tba)
12:30 pm Lunch
1:30 pm Panel: addressing six key areas and their tipping points (why we face system failure in each):
A. financial system/economy
B. labor rights/jobs
C. democracy/elections/politics/redistricting
D. peace & redirecting resources/human & civil rights/social justice
E. environment/energy/natural resources
F. media/framing/communication/education
2:45 pm Facilitated break-out groups A-F tasked with brainstorming what a progressive narrative and vision might look like.
3:30 pm Break
3:45 pm Plenum - Groups report back
4:15 pm PDNC's strategy in this rapidly shifting economic, social, and political landscape:
5:15 pm Other business/Announcements
5:30 pm Adjourn