The North Carolina 10th District Democrats hosted a straw poll yesterday at the Newton-Conover Civics Center, and the results are as follows:
10th District Straw Poll Results
Presidential Race
Candidate % of Votes
Obama 54
Clinton 43
Edwards 3
Biden Single write-in vote
US Senate Race
Candidate % of Votes
Neal 53
Hagan 47
Commissioner of Labor
Candidate % of Votes
Anderson 57
Donnan 37
Richardson 6
State Auditor
Candidate % of Votes
Wood 63
Atkins 37
Insurance Commissioner
Candidate % of Votes
Goodwin 87
Smith 13
Gubernatorial Race
Candidate % of Votes
Perdue 53
Moore 47
Lt. Governor Race
Candidate % of Votes
Smathers 38
Besse 27
Dalton 24
Dellenger 10
State Treasurer
Candidate % of Votes
Cowell 48
Weisel 38
Young 14
Superintendent of Public Instruction
Candidate % of Votes
Atkinson 90
Davis 10
I'm not going to provide an in-depth political analysis of all these races, because frankly, you could put all of my knowledge on these issues in a thimble and still have room for some other stuff. But I will say that I scored exceptionally well (for me), with only one of my votes not going towards the winner (I tried, Dan). Just the fact that I revealed my votes right now is evidence that I'm not a very cunning politico. ;/
Anyway, I thoroughly enjoyed this opportunity to meet and mix with candidates and their supporters, and it reaffirmed my belief that Democrats (on average) are a lot easier to associate with than those elephant people. You do need to need to be Johnny-on-the-spot if you want to get some food (by the time I got hungry, there wasn't a morsel in sight), but since I'm trying to keep my girlish figure from expanding that was probably a blessing.
While I did talk to quite a few people, I only caught a few of the candidates' speeches. Here are some of the more astute participants:
As I mentioned on another thread, Jim Neal has improved his public speaking abilities quite a bit since I first met him at James' house last Fall. He gave a rousing oratory which touched on subjects ranging from opportunities for the less fortunate to racial equality, and he closed by reiterating that people should, "Vote for what they want, not what they think they can get."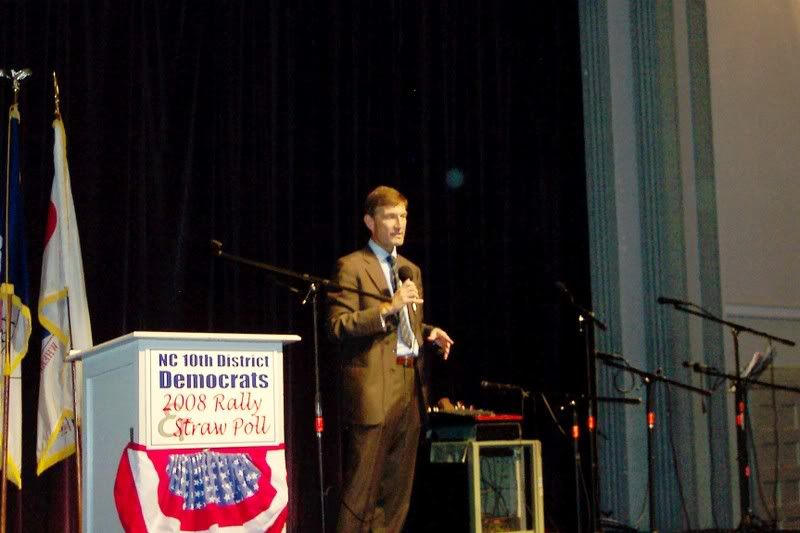 For those who still believe his bid for the U.S. Senate is a long-shot, I will say this: meet him. Talk to him. Watch him in action. As the poll results above show, he is not a fringe candidate, he is on the verge of winning the nomination.
Now comes the time when Steve goes off on a tangent, musing about the mysterious effects of distance and time. I decided to put this at the end of my diary (you're welcome), so that people that have pressing business can run off and try to get everything done that needs to be done, in the time alotted. Good luck.
It always seems to surprise me just how big our state is. Back when my daughter was in her early teens, I used to take her and one of her friends to Ocracoke once a year, usually on Easter weekend. Throw the bikes on the rack and head East, with a cooler full of sandwiches and drinks so we wouldn't have to stop as many times along the way. But it still took us some 7 1/2 hours to make the trip. I can get to Virginia Beach in less than four hours, but it takes almost twice as long to get to the Outer Banks. Weird.
I also like to go to the mountains at least once a year, and last year, I took my mom to Franklin so we could play in the mud looking for rubies and emeralds and such. That took us almost five hours, factoring in the, "Steve hates to ask directions" factor. And that's not even the extreme Western boundary of our state. Theoretically, if one wanted to drive from one end of North Carolina to the other, it could take as much as 13 hours to make the trip. I've driven to West Palm Beach Florida in less time than that.
What is my point? Those candidates engaged in state-wide races have a huge challenge before them. I can't imagine the sheer scope of trying to coordinate and implement a campaign to visit even half of the counties, much less all of them. It makes me tired just thinking about it.
Regardless of the outcome of this election, I tip my hat to all those who are engaged in this effort.