I had the honor of representing Jim Neal at the Alamance County Democratic Convention today, and luckily, he showed up just in the nick of time so I could avoid the public speaking aspect of my surrogate duties (whew).
I'm sure I would have done just fine, but since I actually live in Alamance County, it's not like I could just fade away and never come back if I tumbled over a chair ala "America's Funniest Home Videos" or accidentally dropped an F-bomb while speaking. While they may not be as horrific as the nightmare where you show up at school naked, these things were playing in the back of my mind, nevertheless.
Here's our glorious and recently face-lifted courthouse where the Convention took place: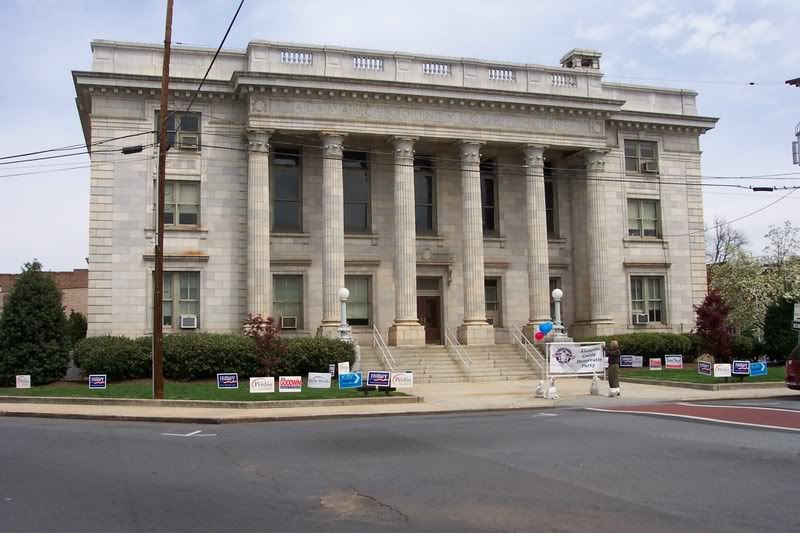 This is the only picture I took today, as I didn't want to tote my camera all over the place while shaking hands and chatting. Which is really kind of weird, since I used to walk (and run sometimes) countless miles with a 75-100 lb rucksack when I was in the Army, but now a pound of digital camera is too much. Go figure.
It was a surprisingly good turnout of candidates here, and I got to meet several and had some good conversations with a few of them. I spoke with Brad Miller before the event and watched him speak a little while later. He is truly a great Representative, and the near-certainty of his reelection is a blessing for all of us. But he needs help in Congress, which leads me to the next person I talked to today, a fellow blogger here at BlueNC.
Jay Ovittore has a hell of a challenge in front of him. And he has encountered some difficulties and resistance that he probably didn't count on when he first decided to challenge Howard Coble's well-worn seat. That some of that resistance came from yours truly right here at BlueNC is not something I'm very proud of, and the fact that he was genuinely glad to meet me today is proof that I was more wrong than right in my assessment of him recently. He's an intelligent and energetic young man, and I think he'd make a damned fine Congressman.
I finally got to see (and hear) Dan Besse speak in front of an audience today, and I was both pleased and surprised. He is undoubtedly a very likable man, and his opinions about sustainable growth and the environment so closely parallel my own that it's only natural that I would support him. But until I saw him speak today, I wasn't so sure of his ability to sell his ideas to large groups of the public. I'm sure I could have seen this from the videos posted here if I was smart enough to switch to broadband instead of my two-cans-and-a-wire dial-up connection, but I'm a stubborn cheapskate. ;) Anyway, Dan spoke very well, and there were a lot of heads nodding throughout.
I mentioned earlier about Jim arriving in time to speak, which he did very well. When he finished, he and the gang had to hit the road so they (like many others) could try to drive all the way to Charlotte by 4:00 p.m.
So after I got home this afternoon, I called them enroute just to pass a message along about how I thought Jim's speech went. When one of his guys answered the phone, I said, "Please tell Jim..." and then his assistant said, "Here he is, you tell him." :)
Anyway, to make a long story less long, Jim and I spoke for quite a while. Like 35-40 minutes or so. We talked about all kinds of stuff, ranging from political strategies to things that need fixing in the way our government operates. We laughed about some things and we grumbled about some things, and when my cell phone started whining for more power I almost drop-kicked it off my deck and into the woods behind my house. ;/
Now, I know the only thing more boring about a phone conversation is hearing (or reading) about someone else's phone conversation, but I believe this may be important for some people to know. To the average voter, candidates are basically enigmas. We've heard so many promises over the years that words from candidates often take a backseat to less important aspects, like the relative attractiveness of an individual, body language, pleasing colors in yard signs, etc. It's as if they're a product that needs marketing, and well-calculated superficialities pay off at the register.
Well, Jim is not a product, he's a real live person. And one that has all the right ideas about what our government needs to do, and the capacity and desire to learn even more. We don't have to worry about him casually voting for legislation that does more harm than good, because that's one of the main reasons he decided to run in the first place. Business as usual ain't cutting it, and neither is sending well-marketed products to Washington. We need someone who will think, listen and act, and that person is Jim Neal.