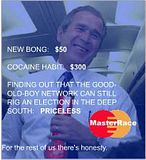 I'm having a hard time getting my brain around an article I found this morning in the Montpelier, Vermont, newspaper. If there were ever a tribute to the incompetence of the Bush administration, this is it:
The diversion of dollars to help fight the war in Iraq has helped create a $530 million shortfall for Army posts at home and abroad, leaving some unable to pay utility bills or even cut the grass. In San Antonio, Fort Sam Houston hasn't been able to pay its $1.4 million monthly utility bill since March, prompting workers in many of the post's administrative buildings to get automated disconnection notices. Fort Bragg in North Carolina can't afford to buy pens, paper or other office supplies until the new fiscal year starts in October.
But remember how the big brass at Fort Bragg had enough money to give George AWOL Bush a 60th birthday celebration while he was in town for his photo-op with da troops? It's a wonder he got out of that party alive.