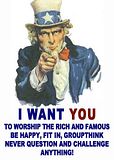 John Hood is back from vacation, but the rest didn't do much good. Today he's decided that the world of public education can't survive with his brilliant insights. At least in this particular case, he acknowledges that his opinions are uninformed and biased.
RALEIGH – Just about everyone has an opinion about how to improve education, and it's usually an opinion passionately held and forcefully argued. Schools are the single-largest expenditure of state taxpayers' funds. Educational mediocrity is the common denominator of many other social maladies. Most folks have spouses, siblings, parents, or other family members in the teaching profession. And everyone has been a student.
Of course, John couldn't close his column without taking a cheap shot at the UNC School of Education. He must have gotten new orders from Art 'the Puppetmaster' Pope to resume giving UNC a hard time. You see, Pope got his feelings hurt when the UNC faculty told him to keep his $5 million bribe. (Pope wanted to create a new curriculum extolling the virtues of rich white guys throughout history. The faculty, understandably, ojbected.)
Welcome back John.