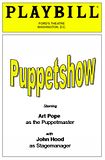 This from today's News and Observer. Some people say you need a scorecard to keep track of all the power-grabbing in the Republican party. From where I sit, though, what you really need is a Puppetshow Playbill.
Republican vs. Republican

The House Republican civil war continues to be fought in the legal system, nearly two months after the May primary was held.

A Wake Superior Court judge is scheduled to hear appeals this month on two GOP candidates who were disqualified because it was ruled that they did not properly live in their district.

Two former lawmakers, Tommy Pollard of Jacksonville and Frank Mitchell of Iredell County, are challenging the ruling that they were not residents of their respective House districts. Pollard hopes to challenge state Rep. Robert Grady of Jacksonville, and Mitchell wants to challenge Rep. Julia Howard of Mocksville.

Pollard and Mitchell are part of a conservative effort to oust Republican moderates who they think too closely cooperated with Democratic House Speaker Jim Black.*

If the court should call for a new election, the primaries would likely be held in September, said Michael Crowell, a Raleigh attorney representing Pollard and Mitchell.

A third contested race is between Rep. Steve Laroque of Kinston and Willie Ray Starling from Wayne County. Starling was the top vote getter, but the local elections board had called for a new election.

The State Board of Elections is scheduled to meet July 12 to decide whether to order a new election.
* This is an MSM euphemism for "Pollard and Mitchell are hand-picked Pope Puppets." Sheesh. You'd think Art Pope could at dig up people who actually live in the districts they're running to represent.