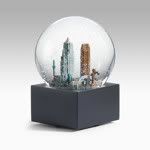 I returned on Tuesday from Ohio, where I volunteered for Sen. Obama's campaign in the frozen city of Cleveland. Hundreds of volunteers from all over the country descended upon the state to help out the Obama campaign.
What follows is the story of my journey in a winter wonderland.
Getting to Cleveland was no small feat. As the person who I stayed with told me, "February is the worst month to come to Ohio". I wish they had told me sooner.
I had planned on getting to Cleveland in one day. Including all the necessary stops, the trip should take about 10 hours under normal weather circumstances. The problem is that the weather was anything but normal, although it might have been normal under Ohio standards.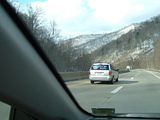 It was getting dark when I crossed the Ohio river and pretty soon after that it started snowing. With a high of 25 degrees the snow wasn't going to disappear anytime soon. I was tired and didn't feel like driving in the dark and snow anymore, so I stopped in Cambridge, OH and checked into a hotel.
The next morning i was looking forward to a mere 2 hour drive to my final destination. When I opened up the curtains of my room i found out that everything was covered in a thick blanket of snow and it was snowing even heavier than the night before. I could see the highway in the distance though and traffic seemed to be moving right along, so I decided to hit the road.
For the first 10 miles or so everything was fine, the road was clear, but after a short while it seemed like the snowplows had stopped working. Everything was white and you could not see the road anymore. It snowed even harder now and visibility was reduced. The only thing I could see were the tire tracks made by a truck that was in front of Me.
For the next 3 and a half hours I followed those tracks in what I would describe as "white knuckle driving". At several points my car started beeping and a light started flashing on the dashboard of My Prius, indicating that my tires were slipping. Until I got to Ohio I didn't even know my car had this feature. Hey, at least i learned something.
I got to Cleveland eventually, a day later than planned and a nervous wreck after that drive. The next day the canvassing started.
Saturday morning I reported to the local Obama Headquarters in Lakewood, a suburb on the west side of Cleveland.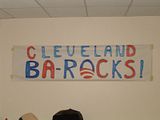 As usual (we did the same thing in South Carolina and Illinois) we were asked to visit targeted voters in targeted neighborhoods with personalized door hangers which indicated where people had to go vote.
Because the campaign asked me not to, I can't tell you what neighborhoods and what voters get targeted exactly.
My door to door canvassing brought me to streets on the edge of lake Eerie and allowed me to snap some pictures of this massive, partially frozen, lake with the Cleveland skyline as a backdrop. The temperatures were still freezing. The advantage to this is that canvassing went pretty fast, people tend to not keep their front door open for very long when its 25 degrees outside.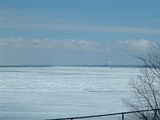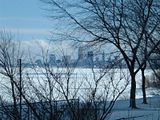 On Sunday and Monday the weather got a lot a warmer, with temperatures reaching 50. The snow melted and roads were clear.
I had originally planned to stay in Ohio until after primary day, but the weather reports indicated that the weather was about to make a turn for the worse so i decided to leave while I still could. On Tuesday morning I headed home. This time I made the trip in one long drive.
On Tuesday afternoon Cleveland got covered in freezing rain. Pretty soon after that it started snowing. It has been snowing ever since and temperatures have yet to get above freezing again. I had escaped just in time.
Even though the results in Ohio weren't what i had hoped for, we didn't do too bad in the City of Cleveland. Obama won 69% of the vote there.

By the way, I didn't just work in Cleveland, I also managed to squeeze in a visit to this little hangout: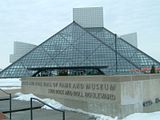 Luckily, the next step for me in this drawn out race will be right in my own backyard.
May 6th is primary day!
cross posted from lefton49