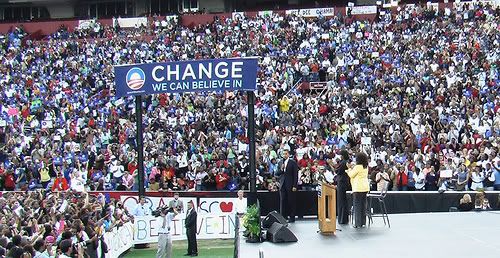 Today I spent my afternoon together with 30,000 other people in a football stadium in Columbia, SC. It felt like being part of history.
48 days before the Democratic primary in South Carolina, Oprah Winfrey joined Barack Obama on stage and made a passionate and convincing plea to explain why Obama is the candidate for President of the USA.
It was the biggest political rally for any non-incumbent candidate in the past few decades. The NY Times calls it a "staggering sight" and could come up with only one bigger number: JFK drew about 35,000 for a Labor Day rally in 1960.
After Arrested Development got the crowd to their feet by singing their hits, we allbroke a world record. When entering the stadium, everyone had received a little flier that had a phone script on one side and the name and phone number of 4 SC Democrats on the other side. After a signal from the stage everyone was asked to call all 4 people on their list and ask them to vote for Barack Obama. In doing so the crowd set a world record for "biggest phone bank". A representative of the Guinness World Record organization actually got on stage and handed over a world record certificate.




Then it was time to listen to the 2 people everyone had come for.
Oprah entered the stage under a thunderous applause and gave a 15 minute introduction to Obama.
Winfrey praised Obama for his wisdom and concern for ordinary people.
Invoking American civil rights leader Martin Luther King, she said:

"We don't have to just dream the dream anymore. We get to vote that dream into reality."
She addressed some of the reasons the opposition always mentions when they say you shouldn't vote for Obama.
"There are those who say it's not his time, that he should wait his turn. Think about where you'd be in your life if you'd waited when people told you to," she said.
Winfrey urged voters to consider Obama's life experience instead of focusing on the amount of time he has spent "in the hallways of government."
"I'm sick of politics as usual," Winfrey said. "We need Barack Obama."
After Oprah announced that it was "Obama Time", Barack Obama got on stage and gave a 45 minute long speech.
He received a minute long standing ovation when he said that "Next year the name George W. Bush will not be on the ballot." He said voters will need to cast ballots in favor of a candidate, not against an incumbent who is leaving office.
Obama had several remarks that where obviously addressed at his main opponent, Hillary Clinton, but never mentioned her name.
He said if he's the party nominee, an opponent won't be able to say he supported going to war in Iraq, supported a resolution which might lead to war with Iran or doesn't want to talk to leaders we don't like, all things Clinton did and said.
"I'm tired of Democrats thinking the only way to look tough on national security is to act like George Bush," he said. "We need a bold Democratic Party that's going to stand for something, not just posture and pose."
"It's not good enough to tell the people what you think they want to hear, instead of what they need to hear. That just won't do. Not this time," he said. "We can't spend all our time triangulating and poll-testing our positions because we're worried about what Mitt or Rudy or Fred or the other Republican nominees are going to say about us."
He said he was "riled up" that some believe that as a black man, it would be hard for him to win the race.

"I remember some folks saying, 'Oh no, a black man can't win," Obama said. "I remember that. When folks tell me I can't do something, that's when I want to do it."
He closed off with the, by now familiar, "fired up, ready to go" chant. It was impressive to hear 30,000 voices yell it out.
Today's rally coincides with a new McClatchy-MSNBC poll that puts Mr. Obama and Senator Hillary Rodham Clinton, his chief rival, in a statistical tie in South Carolina. meanwhile, the republican candidate that seems to be surging ahead in the polls, Mike Huckabee, also had a "rally" in Columbia this weekend and had 400 people show up.
Obama can win this and after today 30,000 more people will make sure he will.
You can view the complete speech of both Oprah and Obama on video on Obama's website.
Cross posted from left on 49.