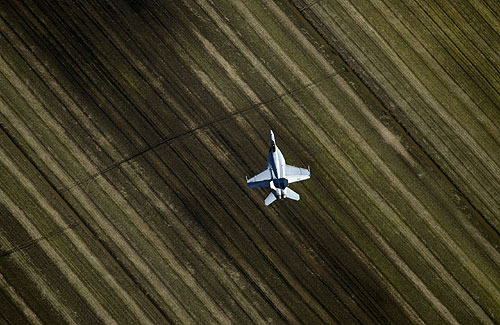 Why is it that Virginia has Senators who actually do something, while North Carolina has Senators who choose to treat we the people like mushrooms (i.e., keep us in the dark and feed us manure)? The same applies to North Carolina newspapers. I had to go all the way to Virginia to find this story:
Virginia officials will announce next week a list of sites they're recommending the Navy consider for a practice jet landing field. "We've tried to broadly identify tracts of land that are within the flight range that the Navy is looking for," Robert P. Crouch Jr., assistant to Gov. Timothy M. Kaine for commonwealth preparedness, said Friday. "It's painted with a very broad brush."

The outlying landing field would take pressure off Fentress Auxiliary Landing Field in Chesapeake, where Navy pilots practice "touch and go" maneuvers. Friday's announcement was the latest development in a long-delayed effort to reduce noise generated by jets at Oceana Naval Air Station while preserving the base's future.

::

The Navy maintains Washington County, N.C., is still its preferred site, but officials have been quietly meeting with politicians in North Carolina and Virginia to discuss alternatives.
"Quietly" is the operative word, which tees me off to no end. What's with our elected officials that they can't have open, transparent discussions about the government's plans?
Crouch said the state has done environmental and ecological checks of the sites to make sure that wildlife would not be affected . . . The search centered on sites of at least 3,000 acres belonging to a single owner and within 95 nautical miles of Oceana, he said. The Hampton Roads Planning District Commission developed maps depicting tracts of forest and farmland between Virginia Beach and Fort Pickett, Matthias said.

Fort Pickett, a National Guard post west of Petersburg, has been suggested as a site by U.S. Sen. John Warner, R-Va., if the Navy doesn't follow through in Washington County.

"Obviously, we're trying to find something east of I-95," Matthias said. "The Navy didn't want to go farther than Fort Pickett."

::

"This shows the Navy's commitment to open dialogue regarding the outlying landing field," Crosby said.
The fact is, the United States Navy has not yet made a compelling case that they need and OLF in the first place. But if they're going to try to have one, let them do it in Virginia.
Anglico
PS Two people who have advised NC officials on this issue say Easley isn't buying the "No OLF is needed" position. Apparently, our state wants to keep the door open for good relations with the Navy by pretending like there's actually a site in our state that would work. Which raises the question: Why aren't NC officials having those discussions with We the People as well as with the Navy?