A couple of weeks ago, I attended the South Carolina Presidential Candidate "Debate" as a credentialed blogger and had the opportunity to talk for a minute with Mudcat Saunders, after the debate.
Mudcat Saunders got involved in political campaigns when he helped Mark Warner win over 51% of the rural vote, in his 2001 race for governor in Virginia:
snips

Strategist Mudcat Draws National Attention

"I went out for an egg sandwich one morning and ended up in the middle of a presidential campaign," Saunders told members of the Democratic National Committee's Southern Caucus last summer. "I still don't know how I got here."

Along the way, Saunders, 55, became a sought-after source for reporters covering the battle for the hearts and minds of so-called "NASCAR dads" - the label pundits have attached to white, culturally conservative men who typically vote Republican in national elections. Saunders' sharp-tongued remarks have appeared in The New York Times, The Washington Post and the Christian Science Monitor, on CNN, MSNBC and the CBS Evening News.

Saunders told them all that a Democratic presidential candidate can appeal to those voters if they show respect for gun rights and avoid letting social issues define their campaigns. If Democrats can "get through the culture," they then can get rural voters to listen to their ideas about the economy, jobs and health care, Saunders argued
Mudcat is committed to shaking up the GOP's rural voter base and believes that kitchen table issues will win over the socio-cultural issues the GOP plays on of Gays, guns and abortion.
Mudcat talked about the glaring economic disparity, after the debate in South Carolina, citing that, "1% of the people are making 19% of the money compared to how in 1980, they made 8% of the money. It can't keep going on like that. It just can't."
Update: Above quote corrected (see comments)
Mudcat is right, "Lack of economic fairness is going to be the issue." As he said, if you go out in to the rural areas, "It Looks like Sherman went through but didn't burn anything. "
Rural areas the most economically depressed areas of the country with the highest poverty rates. Under Bush and the conservative ideaological policies, rural areas are suffering with increases in the poverty rates and working class wages remaining stagnant---and the suffering is widespread.
49 million people live in rural America. Despite declines in poverty, 340 of the 386 poorest counties are rural.
Here in North Carolina, approximately 85 counties out of 100 are rural. The poverty rates in rural areas are the highest of any region. In fact all of the counties with poverty rates over 18%, which exceeds the national average are rural.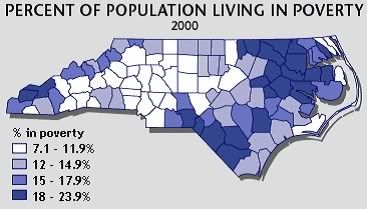 Twenty-three counties in North Carolina have poverty rates over 18 percent. All of these counties are rural, and 19 of them are located in the Coastal Plain region. Of the 23 counties that currently have poverty rates over 18 percent, 20 have persistent poverty.

http://www.ncruralcenter.org/databank/trendpage_Poverty.asp">NC Rural Center
The child poverty rate in NC rural areas is even more disturbing, with the rate at 45% higher than in urban areas. Moreover, the rural child poverty rate is increasing with over 30% of our state's rural children living in poverty. The percentages are even higher for children of color.
A shameful fact about our state is thatNorth Carolina makes the top ten list for extreme child poverty. Approximately, 200,000 of North Carolina's rural children live in poverty.
"It's just can't go on like this."