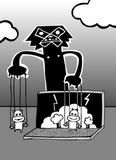 It must be frustrating to be a Puppet these days. Because aside from the nearly Pyrrhic victory of sentencing poor workers to death, I can't think of anything of significance the the Puppetshow has actually accomplished over the past year. Unless, of course, you consider getting Hairdresser Boylan installed in the General Assembly, or perhaps the anointing of Sponge Bob Orr as Art Pope's candidate for governor.
Sure they're spending a boatload of the Puppetmaster's family fortune to buy influence with the media, but in terms of actual impact on public policy, I don't see it. For example, despite all their free-market property-rights baloney, they sat on the sidelines for years and watched the biggest federal land-grab in decades go unchallenged. It took progressive activism to help get that deal stopped, not right-wing "reports" and hand-wringing about the mean old government. And all their whining about the need to end the so-called "temporary" tax was, well, completely ineffective.
A shrewd observer might conclude that causes broadly supported by the Puppetshow in North Carolina are pretty much dead on arrival, as well they should be. The Puppets are extremists who fall completely out of the mainstream when it comes to planning, governance, fairness and equity.
One case that has been unfortunately tainted by their extremism is the case for charter schools. I am a cautious proponent of charter schools, and I hate seeing the possibilities for innovation that charter schools offer being discounted by the North Carolina education establishment because right-wing extremists are the most vocal advocates.
Writing in the latest of their many "reports" on the issue, Terry Stoops again calls for removing the cap on the number of charter schools and allowing the "franchising" of charter schools to run rampant across the state. In other words, the Puppets want to see hundreds of McClassrooms for kids to learn whatever companies in the for-profit education business think they can sell to parents who are between a rock and hard place.
Go read Stoops' report and then ask yourself this: Why is it that these guys can't seem to accomplish anything of value? I think you'll find the answer is simple: they lie about everything. They lie about the current state of public education. They lie about the efficacy and supposed benefits of charter schools. And most important of all, they lie about their motives. To my knowledge.
But rather than continue to berate them on this issue, I propose that we simply make the case ourselves for a moderate, reasoned approach to expanding the role of charter schools in North Carolina.
Specifically, I believe a 10% increase in the number of charter schools allowed in North Carolina each year would be an effective strategy for spurring more innovation and extending the potential benefits of charter schools to those in need. (Removing the cap, as Stoops proposes, would be insane.) Further, the process for starting a new schools should be rigorous and demanding (rather than simplified as the Puppets propose), and evaluation of their performance should be disciplined and continuous. Class sizes should be limited as a matter of policy to no more than 15.
The progressive community in North Carolina has proven over the last year that we can make a difference without having a sugar-daddy spending $300,000 a month to pay our salaries. We did it on the OLF. We did it on community mental health. We did it on exorcising Charles Taylor from Congress. And we can do it in the area of helping to improve public education.
We ought not let ineffective Puppetshow extremism kill ideas that have potential merit.