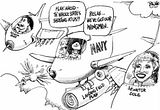 Well folks, the Navy has been carrying forward with its OLF plans like it's in the cat bird seat. And why not? Dole and Burr are all but silent on the issue, and all the other Republican's in North Carolina are too worried about their stock portfolios to give a shit about regular people and family farmers.
So what's in going to take? Any ideas for pushing this over the goal line?
The only thing I know that's in the works is the fact that there will be a resolution in the NC House calling on Congress to stop the Site C OLF. I don't know when that will happen, but when it does, it should pass with flying colors. Sooner would be better than later.
What else? How does one get a meeting with two Senators who obviously don't care a whit about this issue? How does one force their hand to make a public commitment one way or the other? Why aren't the NC mainstream media doing tough interviews with the Senators and calling bullshit on the fact that they're representing Virginia Beach instead of North Carolina?
We need some ideas, people. And we need them now.
Cartoon from today's News and Observer