Crossposted at Kos.
In 2001 Elizabeth Dole moved back to North Carolina. Reeling from her pathetic run at the 2000 Nomination for President she found out that Jesse Helms was going to be retiring. Knowing that the NC GOP is little more than a freak show, full of too much ego and too little action, Karl Rove stepped in, and promised the full support of the new administration.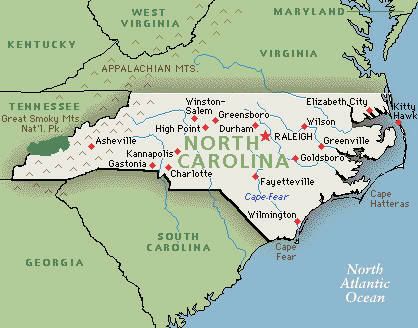 Follow me below the fold for an "amusing" exploration.
Even though she hadn't lived in North Carolina for decades, Dole was off and running for Helms' seat. She invited a lot of press to visit her at her mom's house, where we discovered that being born in a state means you can represent it, no matter what.
Wishing to avoid the accurate claim that she was a carpetbagger, Dole moved back to the state in time to vote in a municipal election in 2001. When she voted for herself on election day 2002, it was only the third vote she had cast in the state.
Well, she missed a few steps. To begin with she doesn't live in North Carolina.
I am not saying that she is committing, or has committed voter fraud. Under the statutes of North Carolina a person is allowed to live in DC and vote in North Carolina so long as they are there for government business and do not register to vote in DC. Additionally, I don't wish to have a libel suit hanging over my head.
However, I am willing to say that she only knows what the weather in North Carolina is like because she can (presumably) read the newspaper and because she might be able to use the internet. From this article in December 2005, we know that she can barely even be bothered to visit for a weekend.
According to various public accounts, Dole made five official trips to the state from April 1 through Sept. 30. The trips were of varying lengths, ranging from a few hours to a few days.
So, where does she live?
I started with OpenSecrets.org, where I discovered that she and Bob own property in many states. She owns 118.91 acres in Johnson City Kansas, valued at over a million dollars. She owns a condo with her brother in Florida. In Salisbury the only thing she owns is a "28.47% ownership interest" in a real estate development. This "ownership interest" has a value of between 250 and 500 thousand dollars. She receives rent from this property.
I then checked on her voter registration, discovering her voting address is 712 S Fulton St, Salisbury, NC. What is interesting about this is that Bob Dole is not registered to vote in the state of North Carolina. He is however, registered to vote in Kansas. In fact, the same day that Elizabeth was voting in person in North Carolina in an effort to become a Senator, her husband was in Kansas, voting in person there. How many married couples do you know that are not divorced, not separated, and yet live in different houses?
My next stop was the Rowan County Register of Deeds. Elizabeth Dole apparently owns the home where she is registered to vote. The home has a value for tax assessment purposes of just under $321,000. I am glad that she managed to actually buy a home in North Carolina. But I wonder about how much time she spends there.
In doing a little more searching, I found this article from 2005. It turns out that said home in Salisbury was bought after Christmas in 2001. Why does that matter? Well it turns out she voted in November of 2001. You see, this house was actually the home of her mother since 1937. In fact, Mrs. Hanford was still living in the house up until her untimely death, in 2004, at the age of 102. The News and Observer finds nothing weird about this, saying,
When Dole returned to North Carolina in 2001 to run for the Senate seat being vacated by retiring U.S. Sen. Jesse Helms, she listed the Hanford family home on South Fulton Street - still occupied by her mother - as her residence.
:::snip:::
Two months later, she watched on television from South Fulton Street as Dole was elected senator over Democrat Erskine Bowles.

The above picture is from their 1986 card, not the 2001 card in question
The claim by her campaign in 2001 was that the home was owned by Elizabeth Dole. Apparently, though, the home was sold to her only after she decided to run for Senate. The home was sold to her by her mother, who continued to live in the home, it being her residence after all.
In fact, as of today, Elizabeth Dole's mailing address on official Rowan County documents is still listed as the Watergate hotel. Why is that important? Because from everything I can see Elizabeth Dole still lives in the same place she has lived for 40 years. Washington DC.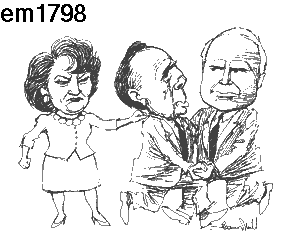 Now, I am not sure who will run against Elizabeth Dole in 2008. What I do know is that she will have to answer a very important question. "Where do you live and who do you represent?" As far as I can tell the only honest response is, "Washington DC, and I represent the Bush administration and my lobbyist husband."