Cross posted from Left on 49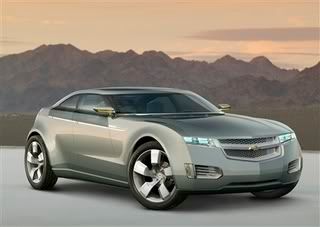 I found a reason today for our local republican GM car dealer (Ben Mynatt) to get a bunch of money out of me.
Several news sources today announced what i think a lot of people are waiting for: the rebirth of the electric car.
Some big honcho at GM must have watched the excellent documentary "who killed the electric car" (if you haven't seen it yet, go rent it), because General Motors Corp. today unveiled the Chevrolet Volt sedan concept at the North American International Auto Show.
The Volt has a battery-powered electric motor that can run the car for up to 40 city miles on a single charge. This is more than enough for the average commuter because 78 percent of daily commuters travel 40 miles or less. About half of U.S. households travel less than 30 miles per day.
Beyond that, a gasoline-powered three-cylinder engine can generate electricity to power the car and replenish the battery, with a range of up to 640 miles, GM said.
The car can be recharged by plugging it in to a household 110-volt outlet for about six hours, and the gasoline engine can get about 50 miles per gallon when producing electricity to run the car, GM said. The turbocharged engine also can run on E85 ethanol. This is no "girlie" car either: GM officials estimated a top speed of 100 to 120 mph for the Volt, which can carry up to five passengers.
You could call the Volt a "plug-in hybrid" that runs on nothing but electricity for the first 40 miles and then turns into a hybrid like we already have on the roads these days (e.g. Toyota Prius).
This might be the car that saves the GM company from dying out after a decade of refusing to invest in environmentally friendly cars and instead aiming to sell mainly gas guzzling SUV's (e.g. the Hummer) and big trucks to machos with a tiny wiener.


One of those machos lives in my neighborhood and thinks he needs a H2 Hummer to drive just one person to work in Charlotte everyday at less than 10 mpg. Since I'm a pacifist I am not going to say he deserves to be shot, but he needs at least a swift kick in the nachos. For guys like that there's the good alternative of joining the army and driving vehicles like this.
The result? GM lost $1.3 billion during the first quarter and a whopping $10.6 billion in 2005 as a whole.
At the same time sane people flocked to companies like Toyota to buy a Prius, thereby making Toyota the biggest car company in the world now. I guess somebody at GM finally got the message and decided to invest money in the electric car once more.
The bad news is that the Chevy Volt is a concept car and it won't be commercially available until 2010 or 2012. The folks at GM seem to have the marketing figured out (you can visit the fancy Volt website here), now hurry up and make the damn thing already.
Then all we need in this country is an administration that pumps money into research on how to produce more electricity through alternative environmentally friendly resources, instead of giving huge tax breaks to oil companies, so we don't have to produce it through very polluting coal plants like the "cliffside" ones Duke energy is planning to build.