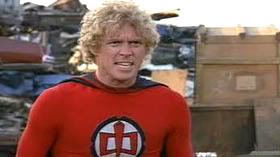 Back in December, I wrote an entry about Michael Munger, who is hoping to run for NC Governor on the Libertarian ticket. I gave him a deservedly hard time, but I want to circle back with a few additional comments. But mostly I want to say how much I like his style.
In response to my post, Mr. Munger wrote an extended entry on his own blog, which I very much enjoyed reading. You can find it here.
Basically a fair presentation, I'd say. Anglico lists several of my issue claims, and mocks them, but he is at least focusing on stuff I really did say. And since some of the mocking is actually funny, I have to give him credit: good on ya, man!
I suspect I share many of the core ideals that Mike Munger stands for, and confess to a certain Libertarian streak myself. My problem with the Libertarian Party, though, is that they carry everything to extremes. For example, the idea of experimenting with school choice is simply a short-term tactic for achieving the pre-determined outcome of eliminating public education. And their passion for free-market fundamentalism seems totally divorced from the reality of the world we actually live in.
All that said, Mike Munger seems like a really good guy. Read the comments on his blog and see for yourself.