First, there was a a lot of confusion about Robert's brown sweater, so I'm going to clear up that order of business, right now! ;) It really wasn't "brown" but light tan.
Now that we have "brown sweater" mystery cleared up…
As many of you already know, I'm an Edwards supporter, so I attend a lot of events in North Carolina where Senator or Mrs. Edwards will be appearing. In fact, I vlogged one of the campaign events Edwards did for Shuler and the event where Edwards stumped for Kissell. But, I hadn't really planned on going to the Hardball event until I got a call letting me know that there were a few VIP tickets available for bloggers. VIP tickets for bloggers? Hmmm…that was something I thought I shouldn't pass up, but reinforce with the Edwards' camp that we, bloggers, are ready to take our place at the table.
We are seeing more and more of this type of blogger outreach from the Edwardses and not just because they have built a kick ass blog for their One America Committee. Both John and Elizabeth Edwards have held a number of private blogger meet and greets over the last year, Senator Edwards has liveblogged on DailyKos and Eizabeth Edwards often posts on blogs, including smaller blogs, like our own North Carolinian, courtnix. And, Elizabeth liveblogged right here on BlueNC! So, I went. And I wondered. I wondered if "the announcement" many of us are so anxiously awaiting would happen. I was pretty doubtful that it would, but when I first arrived to take my "special invite" seat and noticed that Senator Edwards' parents were there, I really wondered…but as the seating filled up in our section, I realized that it was just wishful thinking on my part and with that, I relaxed to enjoy the show.
The set up began with the Hardball crew giving some instructions to the audience, one of which was that we could not take photos during the show. We'd already been told at the door, that we were not allowed to video any portion, likely because they didn't want some blogger catching one of Matthews' off the wall remarks on video for an advertisement free youtube viewing.
Now right to Matthews' most obnoxious comment of the night, about "ball biting" which has been reported by The Raw Story with video from Crooks and Liars:
VIDEO: Chris Matthews pulls one of his unfiltered moments while talking to John and Elizabeth Edwards on Hardball—the College tour.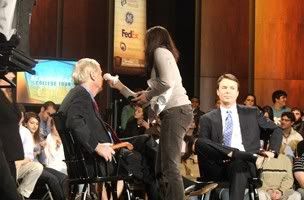 There were several serious moments though. Perhaps the most pertinent being John Edwards' heavy hitting responses on Iraq.
'Hardball' not so hard for Edwards

Edwards said it was unacceptable for President Bush to delay making any changes in U.S. policy in Iraq until January.

"I think the war is a mess," Edwards said. "The Iraq study group makes that clear. ... There is a desperate need for a change in policy. It is amazing to me and totally unacceptable that the president of the United States, after having led us there and created this mess, along with the help of others, is not taking responsibility to change course."
Edwards said that the United States should have known better than to become involved in Iraq, referring to a centuries-old tribal war.

"The idea that we can fix this with military intervention is absolute nonsense," Edwards said. "The only solution is a political solution."
Edwards said he would withdraw 40,000 to 50,000 service members immediately, while shifting more responsibility to Iraqi authorities.

"The idea that we can fix this with military intervention is absolute nonsense," Edwards said. "The only solution is a political solution."
Edwards said he would withdraw 40,000 to 50,000 service members immediately, while shifting more responsibility to Iraqi authorities.
Perhaps the best "smackdown" moment was when Matthews baited the Edwardses to speculate on "what Kerry was thinking" with his flubbed joke about the troops and Elizabeth looked at Senator Edwards and said, "don't even go there!" The crowd roared and Matthews looked a little stunned.
That's not the only hardball Matthews had to field from the Edwardses! When Matthews poorly framed the problem with Unions being teamsters inviting workers to join, Edwards hit right back with his response,"I don't think we have a problem in America with big multinational corporations having their voices heard."
Senator Edwards has worked extensively to strengthen unions and his close ties with unions has led to a a lot speculation as to whether or not he will win the endorsement of big unions, should he choose to run for President. If he does, it will be a boost to an Edwards for President campaign, particularly in Nevada, whose primary was bumped up earlier in the process for the 2008 GE.
So, while Matthews posed some pretty ridiculous questions, I will give him this, he did dish up some serious criticism of Bush during the breaks, one of which was his question to the audience about what is lacking most from our current president. A few in the crowd offered up some responses but the one that Matthews grabbed on to and repeated was, "integrity." This opened the door for Matthews to talk it about the supposed WMD prompting just the type of response from college crowd we'd expect, basically, LIES. Matthews told them, "you are learning."
And… Matthews does seem to hold Elizabeth in high regard. So, hey, can he be all that bad? Ok, ok, maybe he can.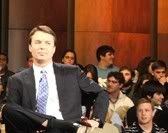 But, the Edwardses certainly held their own and Senator Edwards is looking more and more like a serious presidential contender as his remarks, which made Taegan Goddard's Quote of the Day," demonstrate.


"Running before makes you focus on something different. Instead of focusing on how crowds respond to you and what everybody seems to love of you. That's not the test for being president. The test for being president is are you the best person to occupy the Oval Office and be the leader of the free world? Because literally the future of the world is at stake here. This is not about popularity and excitement."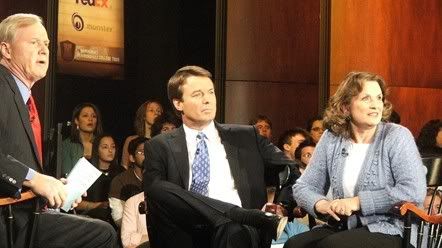 Senator and Mrs. Edwards look out on the chair they donated to the renovation of Memorial Hall, in their son, Wade Edwards', memory.