This year, like last, I find myself overwhelmed as I count my blessings. This has been a wonderful year - almost magical. Much of the wonder, joy and magic can be attributed to one man. Larry Kissell.
Obviously, I'm still high on whatever happened November 7, 2006. I don't ever want to get over that feeling. Hopeless to hope in one short day.
Larry's bid for a seat in congress has helped bring me a renewed sense of excitement toward politics and the electoral process. I have had a chance to watch and write about a regular guy challenging a multi-millionaire incumbent and coming miraculously close to walking away with the seat. He is still fighting for it. Larry is insisting that every vote be counted - even the Republican votes. I'm thankful he's fighting to protect the democratic electoral process.
Through Larry's campaign I have reconnected with some old acquaintances here in Charlotte and I've made many new friends. I've also had a chance to meet many BlueNC friends at the different events I've attended. I'm thankful Larry's helped me connect with so many wonderful people.
I thought you might enjoy a little virtual scrapbook of campaign events. Feel free to post your own pictures or memories from the past year in the comments.
Please join me on the flip...
In the beginning.......
I actually wasn't sure Larry was the man to beat Robin Hayes - until I met him. While I'd written a couple of diaries about Larry early in 2006, once I met him I found little else worth writing about. It was April 1, at the Mecklenburg County Democratic Convention and I was excited to meet Larry and Steve Hudson, his communications director.
Larry's humility and honesty struck me and I immediately knew that he was exactly the person we needed to send to Washington. It wasn't long before I was writing as much as I could for Larry. On April 20, I took a beefed-up version of my BlueNC diary to DailyKos where I mention trying to convince Jerome and Markos to put Larry on the Netroots ActBlue page. Little did I know the battle we would wage for that endorsement!
On May 1, I met Working for Change on her first diary written on Kos under that userid. The post was about Larry's poll numbers. On May 10, I made my first public call for Netroots financial support for Larry. The three sites that had joined to form this particular fundraising group had opened up nominations and I did my best to make sure they knew Larry was out there. I think this may be the first diary where Kismet, Working for Change and I exchanged comments. We are all in Charlotte and it was inevitable that we meet. The endorsement didn't happen in that round.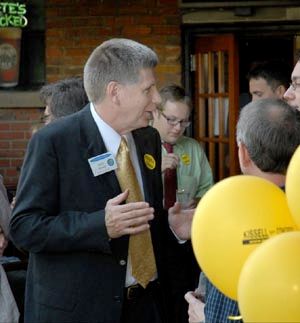 Several diaries later Working for Change convinced me to help sponsor a fundraiser for Larry. It was the first of many events I participated in during this campaign season. It was wonderful. If you ever need anything organized or a plan put into action get in touch with Working For Change. She is amazing. The event was wonderful as you can see from these pictures. Charlotte really likes Larry.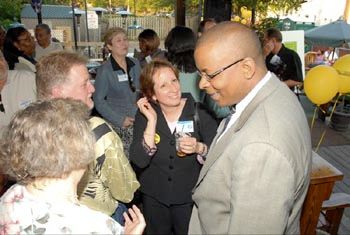 City Councilman Michael Barnes.
Event organizers Tami V. and Megan R.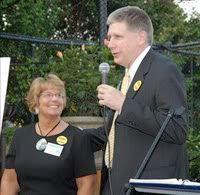 Larry and Tina Kissell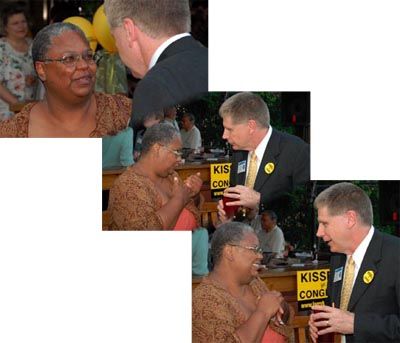 A woman who obviously likes what she's hearing......no, silly, not Tina!
Topping off the evening for me was getting to meet Working for Change.....Tami V.



Following this event, BlueNC's very own Anglico and his stunning and brilliant wife, Jane, held a fundraiser for Larry at their home in Chapel Hill. Anglico's diary of the event with pictures can be found, here. Check out the crowd! This wonderful group of folks dug deep into their pockets to raise $25,000 for Larry - the single largest fundraiser of the cycle.
A couple of days later, a fundraiser was held at the beautiful home of Leanne Powell and Drew Arrowood in Concord. I didn't get to attend, but a friend sent pictures of the event. Drew is also a blogger, but I won't give away his userid in case he wants to remain anonymous.
Barden Culbreth, the man who artfully managed Larry's schedule, enjoys a glass of lemonade.
Right, Barden? Ice cold lemonade.

While I didn't attend this particular event, I have had dinner at Leanne and Drew's home and it is beautiful.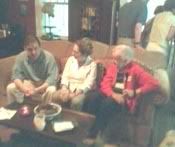 Oh, and by the way....Barden is the son of one of the BlueNC blogger/commenters who might not have happened by if it hadn't been for Larry's campaign. I won't divulge the userid, because I don't ever want to expose names without permission, but we are lucky to have him.
Larry made his way around and spoke with everyone. A little-known fact about this campaign is that both of Larry's serious primary challengers, Mark Ortiz and John Autry both attended many events to support Larry. Mark joined the guests at this fundraiser and several other events. John not only attended many events and provided photographs for the fundraiser mentioned above, he won election to the Soil and Water Board. Go, John!
While we were busy planning and attending fundraisers there was another open call for netroots endorsements. Working for Change and I kept a close watch on the comments at the thread at MyDD and Larry Kissell had a commanding lead based on comments left by diarists and commenters at MyDD, DailyKos and Swing State Project. However, when the nominees were announced by Markos, David and Chris, Larry Kissell was not among those nominated. All holy hell broke loose........and that's putting it lightly.
After a huge public outcry and possibly a few well-placed emails, the Netroots gurus had a change of heart. Larry and a couple of other populist favorites were added to the Netroots endorsement lists and the contributions started pouring in. Our early diaries would bring contributions directly to Larry's ActBlue page, but once Larry was added to the Netroots Challengers list, each diary at DailyKos or MyDD brought in a rush of contributions. We (the internet community) raised well over $62,000 for Larry through our internet activism.
Larry diarists and commenters worked in concert - oddly without ever communicating or planning a thing - to create a flow of contributions and support that has been unprecedented anywhere. Other candidates might have generated more money, but they did so with more media attention and stronger support from DC or Netroots establishment. We created momentum with little to no support from national media, the DCCC or any other national group, sending a clear message that internet activists should not be underestimated.
In July we were entertained by a game of hide-and-seek that Robin Hayes and George Bush played with the press and the people of the 8th Congressional District. We tried as best we could to find evidence that Hayes and Bush spent fact time together......since Hayes claimed to have attended the same luncheon as the President. Alas, there are no reports, photographs or other physical evidence that this took place. Actually, the opposite is true. Hayes insisted that he met/spoke with the President, however no proof has ever been offered that he did so.
July also brought the anniversary of the CAFTA vote. Anyone who has kept up with this race knows the significance of CAFTA to the 8th District and knows the significance of Robin Hayes' vote. Several stories were written to make sure that the event received the appropriate amount of attention.

Once we moved into August the activity level picked up on the Kissell campaign. Not one minute was wasted. August 4th brought an event that received massive national attention. It was a stroke of brilliance and was the first of many moves that brought more earned press to the Kissell campaign than any other in the nation. Other candidates copied what has been referred to as the "gas event", the "gas stunt" and a "gimmick".
On August 4, Larry Kissell sponsored an event where gas was sold for $1.22 per gallon, the price of a gallon when Robin Hayes first took office. Over 500 people lined up to buy gas in the scorching August heat. The event lasted for several hours and Larry didn't leave until the last person received their gas.

I attended this event to take pictures for my blog post about it. I was touched by the folks waiting in line who were so grateful for the opportunity to buy gas at a bargain price. I knew a lot of people in the area were out of work, but knowing it and seeing the impact on the community are two different things.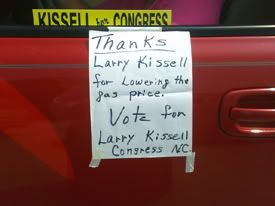 If you had a chance to save almost $2.00 a gallon, you would probably fill up your tank, right? Not everyone who waited for hours in the heat had the luxury of filling up their tanks. They came, though, and they waited. Some were clutching only $7 or $8. It was what they had and on that day it bought a lot more gas than it normally would have. They were grateful for the opportunity. This event was so much more than an attempt to get publicity. Maybe you had to be there to understand just what it meant to most of the people waiting in line, but Larry and I had a chance to talk about it and I know he was thinking more about helping the people in his community than he was about which news crew had shown up.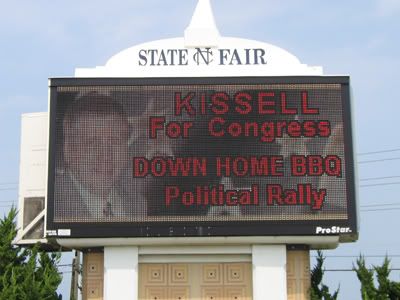 Three days later it was time for a road trip! Working for Change and I made the trip from Charlotte to Raleigh for some down home barbecue and bluegrass music. Congressman Brad Miller and Congressman David Price were both in attendance and as it turns out, so were quite a few members of the BlueNC family.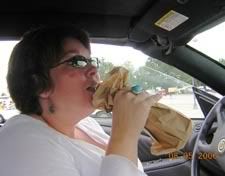 Before we headed into the party, Working for Change and I fortified ourselves with the finest brown-bag specials we could find. Yes, there is a corresponding SD picture to this, but I couldn't find it. This picture wasn't originally used in the story I posted about this fundraiser.....I wonder why? Hmmmmm.....

Once inside we checked the blogger sign in sheet to see if any others were joining us. I was so excited to meet a very special new friend, LoveX7. She(on the left) and a friend traveled together to the fundraiser and she brought lovely silver Democrat donkey pins for all the women. I have worn mine to almost every event I've attended and I keep it pinned to a corkboard hanging near my computer along with my political pins/buttons collection.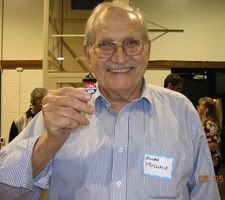 Speaking of buttons. There were awesome door prizes. Gregflynn won some vintage campaign buttons and so did this gentleman. I am envious. I would have loved having some for my collection, but I know where the shop is that sells them, so I have some shopping to do after Christmas.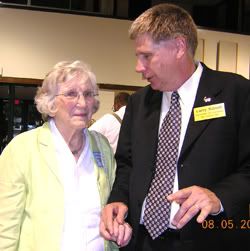 Larry's beautiful mother attended.

Dannie Montgomery, Campaign Chairwoman, laughs with Tina Kissell. Dannie Montgomery is AMAZING. This woman had so many people motivated to get out and work for Larry Kissell. Every time I commented on the early vote turnout in the smaller counties in the 8th, the response was, "That's Dannie."

Hungry people lined up for barbecue with their choice of sauces from 8th District eateries.
Larry Kissell, Congressman David Price and Congressman Brad Miller. I affectionately called this photo 3 wisemen.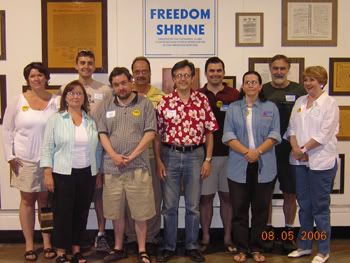 The highlight of my evening was the BlueNC family photo. Granted we do need to figure a way to lighten up just a tad. Don't we look like the serious bunch?

August was very eventful. I had a very public breakup with John Edwards after he left Larry Kissell off of a list of candidates the public could select from to receive a $5,000 contribution. How could he? I was rightfully crushed, especially since it had just been a few days since I had publicly professed my undying support. I guess he figured a way to kill that, didn't he? Fortunately, he was very quick to respond and add Larry to the list. I gave him a virtual smooch and we made up. I'm back to the undying support thing - even though Larry wasn't one of the candidates chosen for the contribution. :)

August also brought a visit from the Vice Chair of the DCCC, Congressman Artur Davis. Davis admitted that the DCCC had been shortsighted to overlook Larry in its plans and he pledged to work to get Larry support from the DCCC.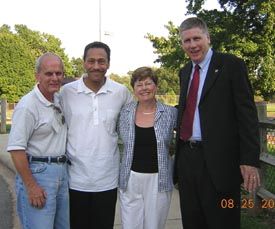 Michael Barnes, Nancy Carter and Patsy Kinsey from Charlotte's City Council were in attendance. Jennifer Roberts from Mecklenburg's Board of County Commissioners and Pat Patton from MCDP attended. Everette Passaly, a candidate in a heavily Republican district was also there to support Larry.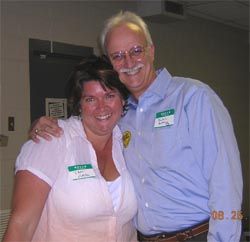 Working for Change and John Autry at the event.

Days later, all eyes and all media attention was on University City's Stumpin' in the Park. This would be the first time that both Robin Hayes and Larry Kissell appeared in public together. It was uneventful except for the fact that Larry swept the floor with Hayes and the Kissell supporters were more numerous, more enthusiastic and more supportive than the Hayes supporters. Of course, that goes without saying......but I'm just saying.......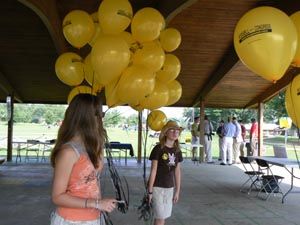 Katie and Emily (my girls) search for the perfect spots to tie balloons. While Natalie Blake gets the balloons ready for the event. Natalie is one of Larry's staffers who worked so hard to get Larry elected.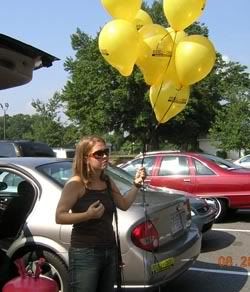 Kissell supporters show their spirit with signs and their Kissell colors.

Larry spoke first and he held Robin Hayes' feet to the flame. I've heard Hayes speak before and I'll be damned if he wasn't off his game. He wasn't prepared for real pushback and it was fun to watch him stumble. It was subtle, but it was there.

Larry speaks with his supporters.
One of the most exciting things to happen this election season was the opportunity for several of us to participate in the Crashing the States documentary. After an amazing dinner prepared by Working for Change; Blue South, Kismet, Working for Change and I were fitted with microphones.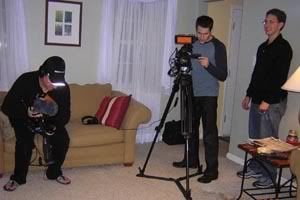 The guys were awesome. Hekebolos is a DailyKos regular and is well-known for his spider diaries. They taped for several hours, but missed attending any events with Larry the next day. After barely 24 hours in NC they headed up to Virginia to attend a fundraiser for Jim Webb.
September brought serious work and some serious media attention for Larry. He must have worn out several pairs of shoes. His feet hit the ground every single day. He campaigned the old fashioned way. Larry continued to call out Robin Hayes for every transgression and Robin Hayes started his negative campaigning. We knew that was a sign that he was scared.

Another great way the Kissell campaign found to meet voters to find out what was on their minds was to visit local gathering places. One of these visits took them to a pharmacy in the district that happened to have a few tables and chairs and where local folks gathered to chat. Larry showed up with donuts and listened to their concerns about the Medicare Part D fiasco and how it is hurting more than it's helping many seniors.
October was crunch time. Every week night and every weekend was spent canvassing neighborhoods and calling at phone banks for many of the volunteers here in Mecklenburg and I'm sure the volunteers in the other counties were doing the same thing.

With all the hard work, October also had some fun highlights. Finally, FINALLY, John Edwards traveled to the 8th District to hold a rally in Concord for Larry. I was thrilled to meet NCDemAmy who had arranged a blogger meet and greet with the Senator.
It was awesome!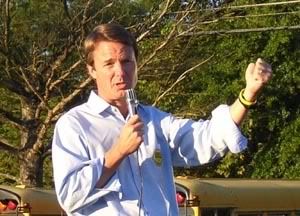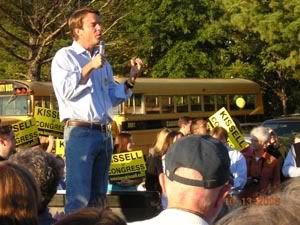 The final big activity of October was the Mallard Creek Barbecue. This event has been held for 76 years and is huge in Mecklenburg County. Candidates absolutely do not miss this event even if it is outside their district.
Will and I arrived early and found a place in line next to the person standing in line for Robin Hayes. Candidates and their supporters form a gauntlet that those coming to eat lunch must walk by as they go get their barbecue.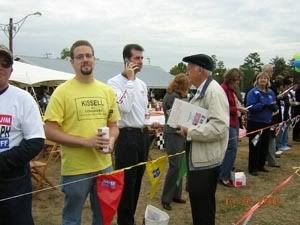 I live about a minute up the street by car and can smell the barbecue cooking for the week before the event. There were quite a few politicians there including the Sheriff and Jim Black.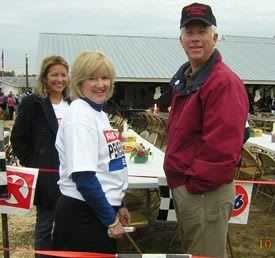 Once Larry arrived, Barden worked the media to make sure Larry was interviewed by each station or paper represented.
Honestly, though, as good as the barbecue is, would you want to walk down this line to be plastered with stickers and have literature shoved into your hands in order to eat? (Ok...it isn't quite that bad) One little side story - when Robin Hayes showed up he went down the line shaking hands and thanking all the volunteers for being there. When he reached out to shake my hand, I gave him a Larry Kissell bumper sticker instead. He gave it back. :)

The final event before election day was a huge weekend of canvassing and phone banking in Mecklenburg County. Quite a few elected officials showed up to support Larry by walking door-to-door with other volunteers. We all started out Saturday morning and then after lunch Larry arrived. Mayor Pro Tem Susan Burgess and City Councilwoman Patsy Kinsey walked with Larry. Joining them were my girls (and Patsy's granddaughters), Katie and Emily.
One of the homes visited was home to someone who actually had relatives and friends living in Montgomery County.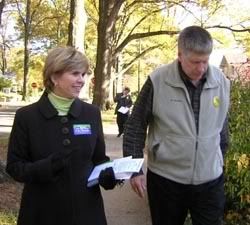 Susan Burgess walked with Larry and then they headed off to greet more voters.
There are so many other little stories and so many things that have happened. I remember celebrating every time Larry received any attention in the press early on. It soon got to the point where you couldn't open a newspaper without finding a story about Larry. This has been an amazing campaign to be a part of - even if it was just a very small part. So many people worked hard for Larry and for the 8th District. Our fingers are crossed and our prayers are said that the hand recount turns up votes for Larry. One way or the other, I'm already starting to work for 2008 because one way or another, Larry will be on the ballot.