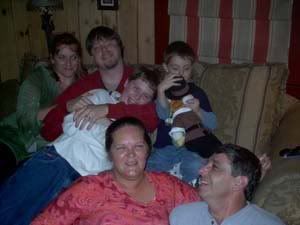 November 23rd, a day of Thanks for all Americans is also my husband's birthday. I am thankful for being in the right place at the right time to find him. Thirty three years later, I am still in love with this man.
Our son, David is in the air as I type this, on his way to Japan to attend Akikio's (his fiancé) sisters wedding. I am thankful for this boy who has turned into a wonderful man and even though his father went to school almost every day that he did, David still turned out to be quite a guy.




Our daughter, Valencia recently graduated from Central Piedmont Community College as an Echo-Tech and has the job of her dreams.




She has a terrific husband and two beautiful sons. I am grateful for their happiness and bountiful love of family.
I was born in the richest country in the world, a country where I can make my voice heard and not be imprisoned if my opinion doesn't square with those in power. My husband and I long ago decided that we would raise our children in a small town instead of my home town of Miami, Fl to better impress on them true family and community values. I am grateful that these options are available to us and all Americans.
I often ask myself what I have done to deserve these blessings and can never find any other answer except that I did nothing, it has been through the grace of God that I can count my blessings and share them with the family I so dearly love. May each and every one of you enjoy your day of Thanks and take a little time to sit back and count your blessings.