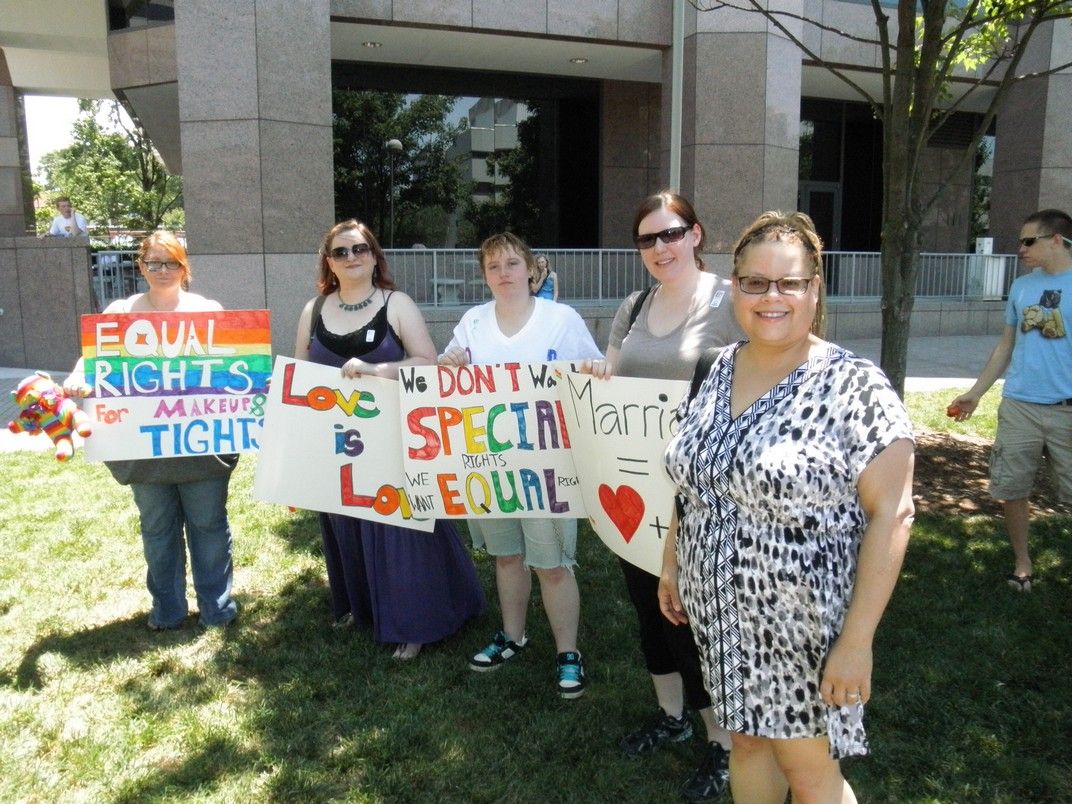 What a day! A nice rally on Halifax Mall in downtown Raleigh against the bills that would enshrine bigotry into the NC Constitution in front of the North Carolina General Assembly turned into kick-ass direct action. First, I'll give you the straight-up press release from GetEqual, and then give you my account - with plenty of video and photos.
Following GetEQUAL NC's -- a direct action lesbian, gay, bisexual and transgender civil rights organization; "Rally in Raleigh" today -- an event to protest the anti-gay Senate Bill 106 -- local gay activists were arrested for disrupting the legislative session in progress when they demanded full legal recognition for LGBT North Carolinians. Activists included Angel Chandler of GetEQUAL NC, the North Carolina chapter of the national organization GetEQUAL, Chandler's partner, Mary Counce; and Asheville City councilman and 2008 U.S. Senate candidate James Neal. Shortly after entering the chamber, the activists began chanting "Liberty and Justice for All in North Carolina." The activists were immediately taken into custody by police and are currently being booked and charged with "disorderly conduct and trespassing".
I was there to capture the whole fracas on video. Jim had announced during his speech at the rally that he was going to go into the legislative chamber, so a group of us followed him in and up to lobby outside of the chamber. And that's where the video starts.
Around 2:20 into it, while Jim and the GetEQUAL activists are being arrested, that's when the security threatened to arrest me and a couple of other people for simply being present to videotape/photograph the event.
Is this how Republican House Speaker Thom Tillisand company run the people's legislature? No wonder NC is going to hell in a handbasket under GOP rule for the first time since Reconstruction. It's an embarrassment. BTW, there's more about the hijinks of the police that occurred earlier during the rally. That's below the fold.
After being told to leave the third floor by Mr. Jackboots, while waiting for the elevator I ran into Laura Leslie, the Capitol Bureau Chief for WRAL (see its coverage), who works the beat at the legislature and filled her in on the details of the protest since she arrived just as things were breaking up.
Jim Neal texted me ("I'm OUT!") when he was released from police custody about 4 hours later (Angel and Mary were also cut loose just after Jim). His court date is July 11.
Speaking with him a bit later he has no regrets and joked that he doubted some of his "friends in the general assembly" will be asking him for an endorsement or to do fundraising for them any time soon after his uninvited appearance today. Ha. He also mentioned that it was an amazing experience to see so many young people at the rally who are committed to fighting this amendment, and he wanted to set the bar to let them know he's ready to work with them side by side.
Updates on the condition, charges, and penalties assessed to the three activists will be available via GetEQUAL's social networks and via GetEQUAL NC's website, www.getequalnc.org.
GetEQUAL:
Earlier in the afternoon, hundreds of North Carolinians attended the "Rally in Raleigh" organized by GetEQUAL NC and local activist Jonathan Green. The rally focused on SB106, the discriminatory bill that would put an amendment on the 2012 ballot that would prevent private businesses and municipalities in NC from offering domestic partnership insurance benefits, and invalidate Domestic Partnership Registries in the three cities in NC that offer them (Chapel Hill, Asheville and Carrboro). The authors of the bill included North Carolina State Senators James Forrester, Jerry W. Tillman, and Dan Soucek.

"Rally in Raleigh" Speakers included:
• Cecil Bothwell, Asheville City Councilman, author, & US Congressional Candidate for NC 11th District 2012
• Janet Owen, Co-Chair Interfaith Voice of Winston-Salem
• Chelsea Sayre, GetEQUAL NC
• James Neal, Businessman and openly gay 2008 Democratic primary candidate for U.S. Senate
• Pam Spaulding, Pam's House Blend
• Jonathan Green, Sexuality And Gender Alliance
• Angel Chandler, GetEQUAL NC

GetEQUAL's Executive Director, Robin McGehee, responded to the arrests, "GetEQUAL issued a call to the President today to stand up for full LGBT equality, and we're proud to support LGBT North Carolinians in issuing the same call to their state elected officials. As North Carolina gears up to host the Democratic National Convention next year, we hope that the state will be moving toward fully recognizing the dignity and equality of LGBT North Carolinians, rather than trying to further enshrine discrimination in the state constitution. North Carolina residents deserve better than the legalized discrimination that this bill promises."
Former minister and author of the book Adam's Gift, Jimmy Creech, spoke eloquently about religion-based bigotry used by politicians in the NC General Assembly to justify passing a marriage amendment.
I spoke as well (I don't know if anyone taped my remarks), and while I was speaking, some fundies across the mall started bleating god knows what with a bullhorn. The police were eventually called to make them stop that, but they continued shouting without the bullhorn, which was fine. I yelled "I love you too" to them.
After I finished up, I went over to take some photos of these young troubled men. The hard-headedness of these fundies is sad. Quoting scripture, not understanding the separation of church and state. God's law superceding civil law, you name it, this guy covers it. Oh yes, and pedophilia and bestiality was first up on the menu of his diatribe.
We did agree on one thing - a plainclothes cop trying to tell me he didn't want me to ask questions of the young man in a civil manner, and that he didn't like the content of my question - which was to ask "how my marriage was hurting him." It is none of this cops's business. We were both on public ground in the appropriate places (I was on the grass where the permit for the rally covered, he was on the sidewalk). Apparently this officer has little regard for our first amendment rights.
***
Letter from Jim Neal after his arrest for equality direct action at the NC General Assembly
In NC we are witnessing an attempt by state legislators in the majority- abetted by a few in the minority- to effectively repeal the 20th century. Aside from targeting and seeking to intimidate the LGBT community with the threat of denying equal rights under the State constitution (amendments to constitutions usually expand- not restrict- individual rights)-- here as across America there is a frontal assault on our education system, our mental and public health systems, our environment, womens' reproductive rights and the social compact that has maintained a strong middle class.......and most cynically, doing so on the backs of the poor, the intimidated and the disenfranchised.

What's playing out before my eyes is the classic "it's them" divide and conquer strategy, a strategy that has always failed in this nation's ongoing march towards full equality. "Equal rights" aren't some nebulous province of this class or the other; rather, equal rights are your rights, they are my rights and they are the rights of all mankind.

I am but one individual, an individual who once campaigned for elective office as a proxy for those having no voice- as politicians all so often do. My campaign didn't end in 2008 anymore than did our nation's progress end on the battlefront at Yorktown, the steps of Appomattox Courthouse or the streets of Selma. For until the day when no man, no woman and no child is embraced in the bosom of liberty and justice, there will be equal rights for none.

I am no longer willing to passively bear witness to the ghettoization of LGBT people, the poor, the middle class and the weak. No body and no individual has the rightful dominion to diminish the unalienable rights to to life, liberty and the pursuit of happiness in our United States of America.

This note in response to my defiance of the law today is neither some personal manifesto, act of self-aggrandizement, stunt nor press release. It's been a long day and I felt like recording my thoughts and forwarding them to a collection of friends and family. What I and other did today was hardly courageous or unprecedented. I will say that my personal expression of civil disobedience today was perhaps the most noble gesture I have made in my lifetime.

As some of you know, two of my heroes are Alexander the Great (hence, the name of my business The Agema Group) and Sir Winston Churchill (hence, the name of my youngest son Winston Dwyer Neal.) Both men captured my fancy for their courage and leadership and defiance. Alexander, the King of all kings, always led his troops into battle from the front line (protected by his elite regiment, the agema) putting his life at most risk. And Sir Winston, amongst his many quips, said:

You have enemies? Good. That means you've stood up for something sometime in your life.

Thanks for your support.

I'm still standing.

jim
Photos from the rally. This album is also on Facebook.