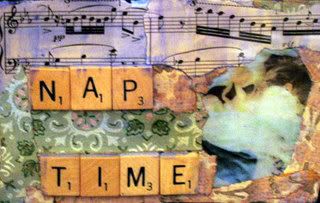 The frenetic pace of politics these days can really take a toll on our lives. Between late-night blogging, early-evening fundraisers, writing letters to editors, and pounding in yard signs, there's a lot to do and not enough time to do it. Which is why I was so interested in reading this article about napping in the Toronto Star today.
We are a culture that celebrates action, doing, achieving, an attitude that leads to a disdain for sleep in general. We stay up late and get up early. We pull all-nighters. We'll sleep when we're dead, and in the meantime there's always a Starbucks on the corner.

It's a misguided attitude. A good nap is one of life's great pleasures, and the ability to nap is the sign of a well-balanced life. When we nap we snatch back control of our day from a mechanized, clock-driven society. We set aside the urgency imposed on us by the external world and get in touch with an internal rhythm that is millions of years old.
I didn't know I was doing all that when I starting taking regular, short naps a few years ago. Today I find that a ten-minute mid-afternoon nap can really get me back on track, especially if I've been writing all day.
This year, researchers at Flinders University in Adelaide, Australia, reported that they took test subjects who had had only five hours of sleep the night before and let them have naps of varying durations. They found that even a 10-minute nap made the subjects feel less sleepy and more vigorous, and led to improved cognitive performance.
So there you go. Find a quiet corner, kick back, and grab ten minutes of rejuvenating nappiness. And if your boss asks what the heck you're doing, just say it's good for business. Because it is.