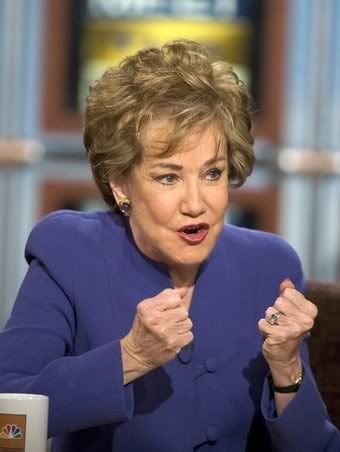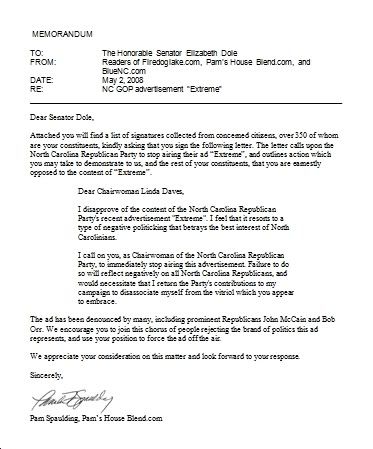 This morning I delivered a petition to Senator Elizabeth Dole's Raleigh office. It was signed by 1,265 concerned citizens -- including more than 300 North Carolinians -- all requesting that Senator Elizabeth Dole use her considerable clout in her party to tell the North Carolina Republican Party's Linda Daves to stop running the race-baiting anti-Obama ad called "Extreme."
The bottom-feeding ad is currently running on four TV stations in the state (New Bern, Asheville, Winston-Salem and Wilmington). It attempts to draw a tenuous-at-best connection between Dem gubernatorial candidates Bev Perdue and Richard Moore (both endorsed Obama) and Reverend Jeremiah Wright. It's crude and reflects the pathetic state of the GOP here, a party in embarrassing decline, longing for the days where everyone knew their place.
The reason Jane Hamsher of Firedoglake, the crew at BlueNC and I wanted to do this is because John McCain doesn't have the cojones to go toe-to-toe with the apparently omnipotent Linda Daves. He denounced the ad from afar but couldn't even pick up the phone to express his dismay directly.
We figured that perhaps Elizabeth Dole, with all her party connections here, would have the gravitas necessary to take on the likes of Linda Daves. Surely she must care that the fossilized Republican party in North Carolina is running racist dog whistle ads and McCain, her party's nominee, said he denounces these tactics. Unfortunately, her initial response wasn't very encouraging.

"I am concentrating on getting my work done here in the Senate, and I'm just not going to get into refereeing a third party political ad that has nothing to do with my race," she said.
So that's where the petition effort came in.
The perpetually no-show-in-NC U.S. Senator was, as expected, not in the office when I arrived in downtown Raleigh this morning. As BlueNC blogger Amy Goodale was setting up the video for me to do an intro, Dole Deputy State Director, the polite and impeccably dressed Reginald Ronald Holley, came outside to greet me. You'll see him at the beginning of the video giving me his business card.
As we went into the Terry Sanford Building, we were told that cameras not allowed, so I had to do the delivery off camera, but there was plenty to talk about before and after. Here's the video...
I entered the office, and signed in the senator's guest book, Mr. Holley came out to greet me and we went to an office adjacent to where Elizabeth Dole "works" when she is in town. I sat down with Mr. Holley and asked where the senator was. He said "she's traveling." I didn't get a response as to whether that was to or from NC or DC. A basic question about where my senator is while working on my dime shouldn't be a state secret, but alas, no success on that front. I also inquired as to when Senator Dole had last been in the state. Mr. Holley said that she rode in float for a "Support Our Troops" rally of some kind last Saturday. Of course this is a rarity; Liddy Dole isn't seen around here unless she's campaigning.
Before departing, I requested that we receive an official response from the senator to the petition so that I could share it with readers of Firedoglake, Pam's House Blend and BlueNC. He said he would pass that on as he took notes, also recording the number of petition signers. I asked Mr. Holley if he would like to be photographed receiving the package outside, where we could film it. He declined. I was politely escorted out of the high-security zone.
As Jane said, ¡Muy Macho! John McCain or Liddy Dole?. We'll see. Does the NC GOP's race-baiting dog whistle ad reflect the party of the past and the future? Senator Dole's response will make it clear whether the GOP elders and influentials don't care what kind of garbage is tossed out there in the name of the Republican party.