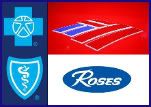 A quick preview of our new state flag, coming soon to a glittery pole near you.
As I understand it, the blue bar will be for sale every two years. Look for Duke Energy to outbid Blue Cross in early 2012.
The white bar will be permanently dedicated to the glory of Variety Wholesalers, owned and operated by Art Pope. This is in recognition of his many years of buying funding helping skating around electioneering laws in anticipation of yesterday's glorious ruling. A deal has been reached that will allow him to swap out the Roses logo for any one of his many stores, or his newspaper of choice. To my knowledge.
As for the red bar, I am embarrassed to report that we the stupid people of the United States of America are actually giving money the big bank who wants to buy not just Congress, but also the North Carolina legislature.