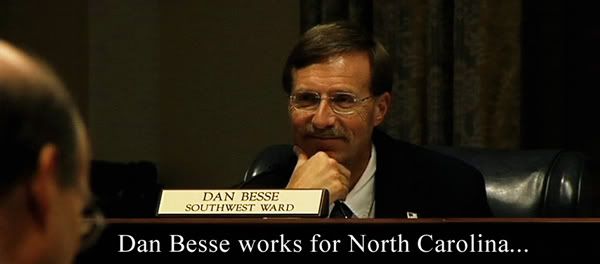 Some of you might have noticed that I have jumped on the Dan Besse bandwagon, and some of you I've contacted through various back-channels about supporting Dan Besse. But, in this post I want to lay down the reasons why I support Dan Besse. But, first, a word about the other candidates.
Walter Dalton - much like BlueSouth, I have to say that Walter Dalton rose in my estimation during the last debate. I would still prefer a candidate from outside the Raleigh-mentality; and, I haven't forgiven my own Senator for voting to cut Medicaid while also cutting corporate taxes. So, I won't be forgiving the architect of that policy anytime soon.
Hampton Dellinger - I like Hampton Dellinger personally, but the way he has chosen to run his campaign, based largely on negative attacks and on the false impression that this is a two-person race has turned me off to his candidacy. I am left wishing that Dellinger's first run for elected office were for a different post where his own ideas and positive attitude would have been the focus of his campaign.
Pat Smathers - I have absolutely nothing bad to say about Pat Smathers. I've enjoyed reading what he has to say, listening to what he has to say, and I hope his strong run for the Lt. Governorship will result in his having more statewide positions in the future.
Having said all that, the elevator pitch for why I am supporting Dan Besse goes like this:

Dan Besse has been focusing on all the right progressive issues since before it was cool. While many of us have come to the climate fight only recently, Dan has been working on environmental issues for nearly as long as our Nobel-prize winning former VP. As far back as 1985, Dan served on state-wide commissions to help protect "the environment, and to wisely manage our natural resources". Dan's fight for the environment was just recognized by an endorsement from the NC Conservation PAC. Choice is another issue where Dan has turned belief into action. In announcing his disappointment that NARAL chose to endorse another candidate:

"We're disappointed that NARAL's endorsement decision was made based on factors other than the candidate's specific records and demonstrated commitment to reproductive choice" said Christine Toole, Besse's campaign manager. Besse argued that he has a longer record on the issue, advocating for reproductive rights in student groups in the 1970s and working for Planned Parenthood in various capacities since 1996.

You see, Dan Besse doesn't just talk about issues, he believes in them. He believes in them so much that he's been fighting for them since before the party decided it was cool.
So, that is the elevator pitch. What else? Why else do I support Dan Besse? Without a doubt, this video from Frank Eaton was a turning point for me in the Lieutenant Governor's race.
Dan says that the reason he is running for election can be summarized as Stewardship and Equal Opportunity. Stewardship of our environment, our planet, and our fellow citizens. Equal Opportunity to education, jobs, and health care. His position on health care (at about 2min50sec) is very progressive and very central to his campaign. His stand that he will make the Senate quit waiting for the House, but will instead push the issue in the Senate is refreshing. The health care issues page on his website lays out his opinion about health care very concisely.
The continuing growth in the number of North Carolinians with no access to health insurance has become a moral and economic crisis which must be addressed. Nearly 1.4 million North Carolinians today—primarily members of low-income working families—have no health insurance.

As a legal aid attorney for poor families, Dan saw far too many cases of the hardships this lack imposes on families.

As a local elected official today, he and his colleagues wrestle every year with the rising costs of providing health care coverage for thousands of city employees. Dan understands that the widespread lack of access to basic health care is unconscionable for our society, and the rising costs of health care have become a major drag on our businesses and economy. The following specific goals should be part of our state's efforts to address this crisis.
The only other thing I could ask of Dan would be to embrace the call for a single-payer, universal health care system. Or, to change the wording on his issues page to "We must ensure that North Carolina has Universal Health Care" from "We must ensure that all North Carolinians have access to health care."
Finally, on a personal note. I used to be an athlete, then I became a jogger, then I quit, now I'm starting again. I've run a lot of 5Ks, 10Ks, and a half-marathon. Now, I'm training to participate in several Sprint Triathlons across the state, starting with the Wilmington Athletic Club Triathlon, and hopefully following that up with the Kerr Lake Triathlon. If things go well and my football-injury-addled body holds up, I might even try the Duke Liver Center Half 2008. Maybe. That maybe is part of the reason I am supporting Dan Besse. It takes a special kind of person to do these high-endurance races, people with a lot of internal fortitude, people like Dan Besse.
21 Marathons and 52 Ultramarathons means one thing - this person has incredible mental strength, incredible mental stamina, and a willingness to never give up. This is the combination I want, this is why I supported John Edwards, this is why I support Dan Besse, a strong progressive record, a strong progressive campaign, and a fighter who will never give up on me or the citizens of North Carolina.
In closing, I am asking you to join me in supporting Dan Besse. I am asking you to JOIN ME in making a contribution to the Besse campaign. Dan is leading on the issues, Dan is leading in the progressive community, now he needs your help to take the lead in fundraising. Let's make the voice of the Progressive Wing heard in North Carolina. Let's give the highest, personally-significant contribution that we can to Dan Besse, for a Better North Carolina.