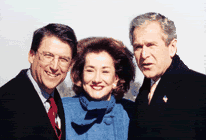 Just in case you have been operating under the illusion that any of us are in control of anything, you might want to have a closer look at your brain.
In ways we are only beginning to understand, the synapses and neurons in the human nervous system work in concert to perceive the world around them, to learn from their perceptions, to remember important experiences, to plan ahead, and to decide and act on incomplete information. In a rudimentary way, they predetermine our choices.
Guess that explains why Pat McCrory and Liddy Dole can't help but do whatever Bush's brain is thinking.