Does your claim "Home nearly every weekend" include this home in DC?
About 450 New Jersey Av SE

County/Region: Washington county DC / D.C. Southeast
Year built: 1890 | Builder: N/A
Square footage: 940 sq. ft. (land) | 1,156 sq. ft. (living)

Beds: 3.0 | Baths: 2.5 | Stories: 2

Census tract: 65/Folger Park
Property taxes: $5,913.96 (2008)
You can see the street view of his house (the grey one) if you scroll down to the bottom of the page. I tried to capture the image, but no luck.
It looks like Cass Ballenger (or family) sold it to the Burrs back in 2003, but in 2005 it appears Brooke sold it to her husband?
Sales History (2001-present)
N/A on March 16, 2005
B: Richard M Burr
S: Brooke F Burr

$525,000 on October 1, 2003
B: Brooke F Burr, Richard M Burr
S: Lucinda Garrison Ballenger, D Ballenger Qualified Personal Residence Tru Donna, Melissa Ballenger Jordan, Davis Ballenger Weaver
Yeah, yeah. It's an "investment" property, or cheaper/smarter than paying for a hotel, or whatever. But it's still listed as a "residence" on his financial disclosure statements, and you don't buy a half-million-dollar home if you're anxious to run South every weekend.
Update: Found it: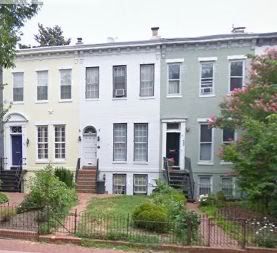 Politics aside, I am totally jealous. Two blocks from the Library of Congress? :o They'd probably ban me the third time I got accidentally locked in.