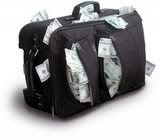 As should be expected from Republican corporatists, those who profit most from screwing poor people through predatory lending are whining like banshees now that Congress is finally taking on their abusive practices. Their big new worry comes in the form of legislation being proposed by Barney Frank (D-Mass.), the chairman of the House Financial Services panel.
According to The Hill, Frank's bill builds on some excellent work done last session by two of North Carolina's most effective Congressmen, Brad Miller and Mel Watt.
As its core, the Frank legislation will draw from a bill sponsored by North Carolina Democratic Reps. Brad Miller and Melvin Watt in the last Congress involving "high-cost" or riskier mortgages. Such loans became subject to tighter consumer protections under the 1994 Home Ownership and Equity Protection Act (HOEPA). The Miller-Watt bill would have swept in a far larger category of mortgages under the act and, as a result, it attracted the strong opposition of the banking industry.

Frank declined to comment on the degree to which he would use Miller-Watt as a starting point for his bill, saying only that he is working closely with the two congressmen on the legislation.
It's nice to see the foundation laid by Brad and Mel being put to good use, but don't go thinking this will be a cakewalk for those fighting on the side of consumers, no matter how many of those consumers find themselves defaulting on mortgage loans this year.
Said one banking lobbyist, "If they put the Miller-Watt bill in there whole, as it was last year, it's something we would have a lot of problems with."
To which I say: We need to change the system so that no one actually gives a flip what some banking lobbyist has a problem with.
Curbing predatory loans won't help people trapped in unaffordable mortgages, but it could prevent another binge in risky lending, proponents argue. The prospects for the bill, which faces steeper odds in the Senate, are likely to rise as conditions in the mortgage market worsen. New default data due later this month from the Mortgage Bankers Association will add "more fuel to the fire" and place "enormous political pressure on lawmakers to respond," predicted Jaret Seiberg, a financial services policy expert for the Stanford Group.

Frank's legislation will tighten underwriting standards and include language designed to prod states to enact minimum standards for mortgage originators involving disclosure and broker licensing, according to discussions that Financial Services Committee staffers had with lobbyists over the recess.
The path to ending this kind of corporate abuse is a long and complicated one that will require a fundamental change in the rights and privileges we have given to corporations. One stop along that path will be the end of corporate personhood, a change that even honest Libertarians should support wholeheartedly.