As you might know by now, I've been spending some of my time as a volunteer for the Barack Obama campaign in South Carolina.
I thought you might be interested in knowing what I'm doing there.
The Obama campaign has several field offices scattered all over South Carolina.
The main Headquarters are of course in Columbia, but I go down to the Rock Hill field office, since that's the closest. It takes me about an hour and 15 minutes to get there. I mainly go down there on the weekends, but I've also managed to squeeze in a few evenings now and then.
The office is always buzzing with activity and the parking lot is filled with cars that have license plates from across the country. A lot of students that are studying in the Charlotte area come to volunteer there.
What I've been doing is making a lot of phone calls. They have a big phone banking operation running and most of the time all phone lines are in use. Volunteers also bring their cell phones and make calls on those.
I've made about 1,000 "voter ID" calls now and the target group I've been working on is African-Americans, who make up about half of the registered Democrats in SC.
What I ask them is if they have made up their mind yet on who they're going to vote for. If they say they will vote for Obama we will make sure they actually go out and vote on election day (January 26th). If they say they are still undecided they will get some literature in the mail and they might even get a house visit to try and persuade them. If they will vote for someone other than Obama we tell them to go vote in February. Just kidding!
We actually just wish those folks a good day and we won't bother them again.
Most of the time people don't answer the phone or they'll let their answering machine pick up. Such is the curse of caller ID.
In about 20% of the time I will actually get to talk someone.
In about half of those cases they say they are going to vote for Obama.
In most other cases they say they are still undecided. The only other candidate that has been mentioned a few times, but not a lot, is Hillary Clinton.
Some of the reasons people give to vote for Hillary are interesting, like these examples: "I really don't like Hillary, but I like the guy she sleeps with" and "I love Obama, but I'm afraid that if I vote for him he will get shot and I don't want to do that to the guy".
I'm fully expecting to be making other calls starting this weekend, more than likely "get out the vote calls" and trying to find volunteers to help out on election day.
I will also be working all day on primary day, January 26th, and I'll let you know how that goes. We will need lots of volunteers on election day, which is next week Saturday, so if you want to see Obama win, don't hesitate and drive down to SC that day! If you really want to make a change you can just drive down with me or contact me and I will get you in touch with a field organizer.

You can click on all pictures to see a bigger version.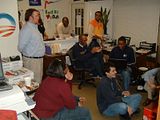 One other thing I've been doing regarding the Obama campaign is give interviews to a bunch Of media outlets in Belgium.
As you might know I spent the first 29 years of my life in that country and I guess the Belgian media likes to report on a Belgian connection when talking about the presidential primaries in the US.
So far I've given interviews to the national press agency Belga, Radio Flanders International and a national newspaper called "De Morgen".
You can see some of the result of all that online:
Video report from the National Belgian Press agency BELGA:
http://destandaard.be/video/videoPlayer.aspx?cat=3&subcat=0&videoId=792
Radio interview for RVI (Radio Flanders International):
http://outpost.vrt.be/privemp3/primaries_20080115_122717.htm
Article on the RVI website:
http://www.rvi.be/rvi_master/insite/rvi_insite_thierrywernaers/index.shtml
Mind you, all of it is in dutch, so you probably won't understand it but you might at least get a laugh out of it.
The most exciting stuff for me is yet to come though. This weekend a TV news crew from the Belgian Public Television will be coming to my house for an interview and they'll follow me around as I go to SC to volunteer for the Obama campaign there.
The weekend before "Super Tuesday", which is February 5th, a TV news crew from the biggest commercial TV station in Belgium is flying me to Chicago to go visit the National Obama Headquarters and the suburbs of South Chicago where Barack Obama used to be a social worker and community organizer. I'll try to give you guys a little update from Chicago when I get there.
So that's what's been going on with me. What's been going on with you?
Cross posted from Left on 49