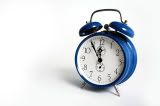 Robin Hayes is no doubt spending the weekend wondering how the heck a mild-mannered school teacher from Biscoe is going to kick his fanny this fall. Tough tomatoes, Mr. Hayes. If you had served the people of your district instead of King George for the past seven years, you wouldn't have this problem.
The nonpartisan political analysts have changed Hayes' rematch with Biscoe schoolteacher Larry Kissell from "Leans Republican" to "Toss Up."
Give 'em hell, Larry.