Flying to Denver was both stressful and exciting. On one hand, I was leaving my children to start a new school year without me. I have never missed a first day of school. On the other hand, I was flying off to the experience of a lifetime.
My flight was uneventful. I arrived in Denver and as we all walked up the path to enter the main terminal we were greeted with DNC volunteers holding and waving Barack Obama signs welcoming us to Denver. It wasn't a raucus welcome, but I got a bit of a lump in my throat and the excitement immediately started to build.
I had originally planned to attend the Veteran's Vehicle project and the Media Welcoming Reception on Saturday evening, but Mark Ezzell's warning to drink plenty of water to avoid dehydration wasn't a joke. I was wiped out and had a massive headache. As much as I hated to miss those two events I decided to stay in since Sunday was going to be an even bigger day.
First thing on the agenda Sunday was picking up credentials. I wasn't completely certain which trains would take me to which locations, so I decided to take the lightrail to the end of the line. I was very impressed. This is a great way to travel. I can imagine commuters in most bedroom communities enjoying riding these trains. Every train I've been on has been spotless. It's an $8 round trip fare and the large parking deck is full on weekdays.

Not being sure which stop to choose, I took the train to the end of the line, which is at Union Station. From there you are able to ride a free shuttle that runs up and down the 16th Street Mall. The free shuttles stop at each street corner. They are hot and steamy but they are FREE. I have ridden them each day for one reason or another. It might simply be because I know where they are. (On 16th Street....duh.)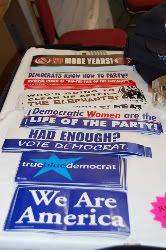 I exited at The Sheraton Hotel where the DNC was set up to distribute press credentials and where some delegations were registering. I was the only person in the blogger room picking up credentials. There were various tables set up on the lower level where I picked up my credentials and one was piled with swag bags for us media types. I grabbed mine and found a seat to put my credentials in the holder and to redistribute my "wealth". I was carrying my computer case, camera case and tripod.
Back upstairs the lobby was buzzing. The still pictures just don't do it justice. There were people checking in, meeting and greeting friends and fellow delegates and buying official DNC merchandise. There were bumper stickers, buttons, shirts, shot glasses, coffee mugs and a great donkey cookie cutter. I decided to wait before buying anything. I may have been the only one.


My next stop was supposed to be to pick up my Big Tent credentials, but somewhere along the way I got sidetracked by a war protest and a protest against the war protest. I caught the tail end of the march. The marchers were carrying homemade signs and some had a huge inflated planet earth held above their heads. Traveling directly behind the inflated planet was a large building portraying the Pentagon and its inflated budget.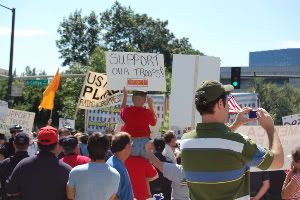 As I looked down the street, which wasn't that easy since I was having to look over and around the protestors against the war protestors, I could see people dancing and singing and waving their signs promoting world peace, love and harmony. The marchers represented people of all ages, skin colors and from all walks of life. Some looked like they came right out of L.L. Bean's War Protestor Catalogue (you've seen this one, right?) and others looked like they came straight from the 1960s. Cool.






The street was lined with police officers in full combat gear. As intimidating as they looked, they were very friendly and helpful. I got the distinct impression that they were there to keep the protestors against world peace, love and harmony from getting violent. But, that could have been my imagination. You see, instead of conducting their protest against world peace, love and harmony in a non-violent way, they were yelling and jeering at the war protestors. Sad.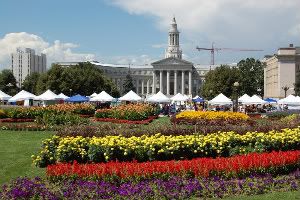 This is the part where I get turned around, but I didn't care because directly ahead of me was a festival in a park. The park is adjacent to the Denver Public Library and the Denver Art Museum, but I never found out its name. There were white tents everywhere housing vendors selling everything from Princess House merchandise to handmade jewelry to their musical talents.




One family in particular promoted themselves as proud Democrats and they played some mean Bluegrass. Notice the two teens sporting Obama shirts.


As I walked through the park I was drawn to an amphitheater by the sound of tribal drums. I could hear a woman calling out instructions on a loud speaker and decided to investigate. I arrived as a group dressed in costume were leaving and spectators were being invited in to dance. Men and women, young and old, black and white all joined in. They danced with abandon. They were feeling the beat......most of them. It didn't matter how well they danced, though, it was beautiful watching them, especially those who were obviously shaking off some inhibitions as they shook their tail feathers.
It was about this point that I realized I was turned around. It was also at this point I realized I'd lost my handy dandy laminated city map of Denver. I decided to head back toward the Sheraton. What's a little more walking on a scorching day when I'm 5000 feet closer to the sun, right?
I walked up and over a block and saw a few more vendors who weren't part of the fair in the park. One was selling a new version of one of our favorite books. One group actually turned out to be Young Republicans waving NObama signs and cheering and clapping. As much as it pains me to acknowledge this, they were actually doing a good job. Instead of being aggressive or ugly, they were smiling, waving and cheering. It may have been obnoxious that they were doing it, but they weren't being obnoxious. They were actually quite friendly and they were very effective protestors. If I were on the fence, I might be inclined to listen. I'm not, so I didn't.
I finally made my way back to the 16th street mall and that hot, steamy FREE shuttle bus. I headed to Wynkoop Street and to The Big Tent to pick up my credentials there. Workers were busy prepping the tent for the thousands of bloggers flying in to cover the convention. These credentials weren't free. Each one cost $100. They have seven meals attached to them and there are free yoga sessions, presentations, seminars and beer. My credential came with another bag 'o swag and I decided it was time to head back to my room to divest myself of some possessions before continuing my afternoon of fun and frivolity.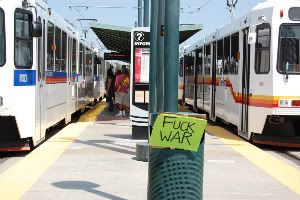 All afternoon I had seen homemade signs planted in the ground and attached to poles and buildings. The final sign of the day found at Union Station was absolutely my favorite.