Peace advocates meeting on the National Mall this Saturday will be met by counter-demonstrators organized by two North Carolina men. Larry Bailey of Vets for Truth and BootMurtha.com and Ted Sampley of US Veteran Dispatch and multiple dubious pseudo-political ventures and, Rolling Thunder Motor Cycle Rally.
Ted Sampley of Kinston, the P.T. Barnum of Swiftboating, has created a bogus story that protesters will deface the Vietnam Veterans' Memorial. It has spun from Sampley's website with an "Eagles" message board into an organized counter-offensive called "Gathering of Eagles". Many have bought into the BS, and message boards hint at physical conflict. Some suggest developing "limps" to justify canes as potential weapons. There is a way to fight back - peacefully. Read on and please take action before midnight Friday.
According to MarchOnPentagon.org
Tens of thousands of people will be gathering at Constitution Gardens at 12 noon near the Vietnam Memorial prior to the March on the Pentagon on Saturday, March 17. We will not be in the Vietnam Memorial and all speakers for amplified sound are turned away from the Memorial so as not to interfere with family members visiting the site
The purpose of Sampley's parade charade is to whip up controversy to perpetuate the Sampley's self-importance and his hate agenda and, to keep making money from peddling stuff like selling arm bands t-shirts and other political/military paraphenalia including confederate flags and anti-Hillary bumper stickers. I'd call them chachkas but they are not inexpensive.
Back in October I wrote a post called In The Shadow of Lincoln that provides background on Ted Sampley originated by The Southern Dem.
In the middle of a multitude of activities, The Southern Dem found time to research and write an excellent series of articles about a usurper of democracy, one Theodore Lane Sampley of Kinston. Sampley, a political provocatuer, is the originator and maintainer of an eyesore in the nation's capital, an unkempt shack which sits in plain view of the Lincoln Memorial, mocking Lincoln and the nation's political heritage. The culmination of this writing was a three part article, links to which I have re-posted to recognize the excellent research and narrative which may have been missed by some readers the first time around in the whirlwind of daily posts.

PART 1 : Who is Ted Sampley and Why do I Care?

PART 2 : A Darker Shade of Ted

PART 3 : Disreputable, Despicable, Dishonorable

Disclaimer - To my knowledge, no person mentioned in this article or the three referenced articles, has committed a crime, pleaded guilty to or been convicted of any crime associated with events listed here.

The Southern Dem exercised a great deal of discretion in writing these articles. One picture not originally shown was this view of the Last Firebase which is the side that faces the Lincoln Memorial and is the view seen walking from the steps of the Lincoln Memorial towards the Vietnam Veterans Memorial. Click on the thumnail for a larger image of this "tribute" to our fallen heroes.
The Southern Dem wrote in a comment:
I love the memorials in DC and I think it's a shame that the beauty of the area is marred by these huts. I was hoping you would do a story with all the pictures so folks can see how terrible these are. Almost all information I can find on them indicates they are simply for-profit businesses masquerading as non-profit veteran's groups. I hope you will get a chance to post all of the pictures you took in DC of these huts.
Well, here are those pictures and I hope it spurs you to take action before midnight Friday by submitting a Public Comment to the National Park Service to have these eyesores removed from OUR National Mall.
The comment period closes on ' 03/16/2007 at 11:59 PM.'Your comments must be submitted or postmarked by midnight Mountain Time on ' 03/16/2007 by 11:59 PM.'
To go directly to the comments form click here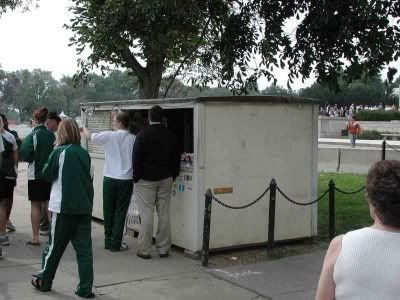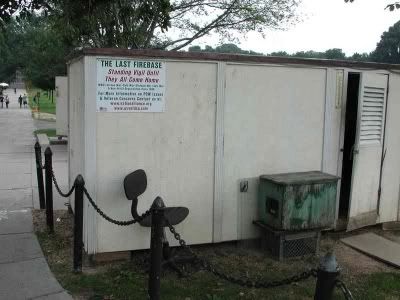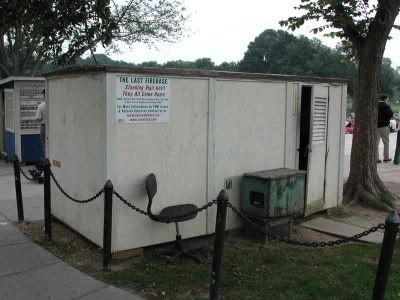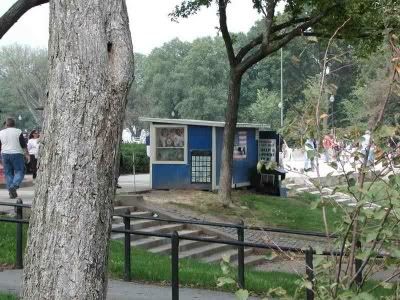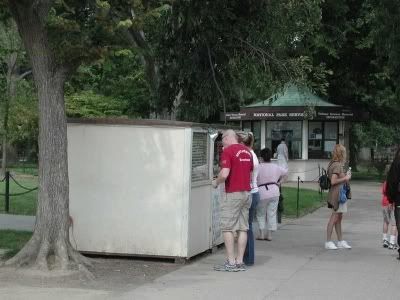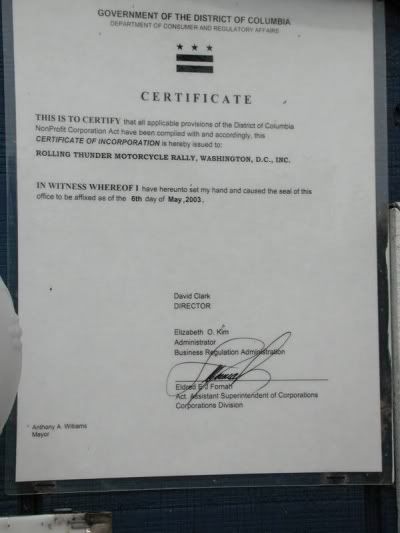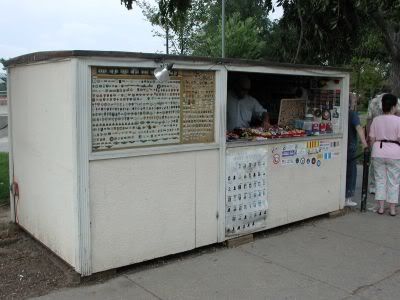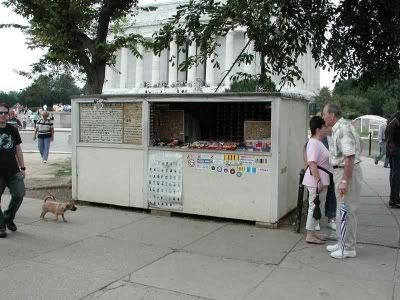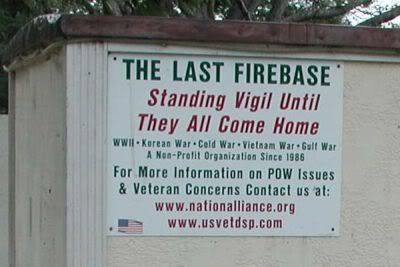 This last image clearly shows the connection between Sampley's for-profit "US Veteran Dispatch" and the non-profit "Last Firebase" which sustains a large part of his income.
Again please take action before midnight Friday by submitting a Public Comment to the National Park Service to have these eyesores removed from OUR National Mall.