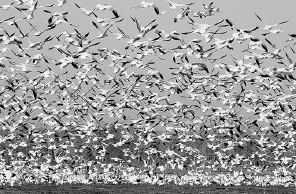 BlueNC lurkers who aren't registered may not know that we have several hundred readers online at any given time. For example, when I wrote this entry (8:57 AM) there are 246 "guests" on the BlueNC site. This open thread is for you.
Specifically, this open thread is a request that you go the US Navy's official comment site and add your voice to those opposing the Site C Outlying Landing Field. There are tons of entries on BlueNC about the OLF you can use to come up with comments, or feel free to use these notes:

1. Pilot safety. The Navy is disregarding the advice of the nation's best experts in the US Air Force on bird-strike hazards.
2. The voice of the people. The Navy is disregarding the strong and clear desires of North Carolina's leaders in state government, as well as the representatives of the majority party in Congress.
3. Lies. The Navy has muzzled it's so-called cooperating agency, the US Fish and Wildlife Service, which is 100% against Site C.
4. Politics as usual. The Navy has made its case for political reasons that fly in the face of operational and safety concerns.
So, dear Lurkers, even if you don't want to register or sign in, won't you please take action on this important issue? Thanks for your consideration.