The picture you see is of yard signs in a garden on my street. The garden is that of neighbor Scott Falmlen, former executive director of the state Democratic Party and one of the organizers of "FairJudges.net" the 527 committee which received and spent over $200,000 in "non-partisan" judicial races on behalf of the three Democratic judges shown and one Republican incumbent (running against late convert Democrat "persona non grata" Rachel Hunter). Scott is a nice guy who always waves when I pass him in the street.
Another 527 committee, the "NC Homeowners Alliance" spent over $70,000 mostly in opposition to State Representative Bonner Stiller, a Brunswick County two-term Republican. Stiller was re-elected. The "NC Homeowners Alliance" is actually an organ of the NC Association of Realtors whose lobbyist Tim Kent is a contact for the group. Tim is a nice guy, a former executive director of the NC Chapter of the American Institute of Architects and, former newsman, who has always been helpful and thoughtful in his dealings with me.
          (read more below the fold........)
In a recent ranking of lobbyist effectiveness by the NC Center for Public Policy Research two honorees stand out amongst the 50 rated most effective: Bob Hall of watchdog Democracy North Carolina who works tirelessly against the influence of lobbying money and Meredith Norris who has been banned for lobbying for two years for unregistered lobbying.
Recently a friend and ethics reform advocate suggested the real possibility of forming a PAC to target specific legislators exhibiting egregrious ethically challenged behavior.
What is it about campaign finance in North Carolina that turns conventional wisdom on its head and that seduces otherwise normal, decent people, people that I know personally, into the insidious world of cash-based political influence? These are generally decent people, doing what they believe to be fair, legal and necessary. We have to change the rules so that decent people don't feel they have to participate in deceptions in order to play by the rules.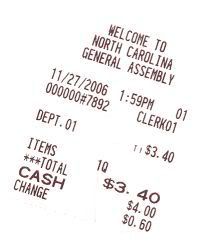 There are 120 House members and 50 State Senators. At the end of the 2005 legislative session there were 638 registered lobbyist representing 727 companies or organizations plus 68 registered legislative liaisons representing 40 state agencies. Lobbyists earn more money and distribute more money than legisators can readily access on their own as legislators. The numbers are hard to argue with.
With elections (almost) over and the State Legislature out of session attention to campaign finance reform has dropped off though legislative committees and commissions continue to meet. I have been struck by the insidious nature of political committees, the inconsistency of enforcement and the degree to which they act with impugnity.
Last week I had an appointment with an ophthalmologist, my personal protest against the actions and influence of optometrists in prior legislative sessions. As if to test my resolve, the power flickered on and off in the stormy weather. Let's hope the next legislative session will be endowed with resolve to control the invasive influence of political committee cash and provide a clear vision of transparent and ethical state legislative processes.