Over the past several months George Fisher, David W Moore, Chris Telesca, and a number of fake accounts suspected to be tied to Moore, have created chaos on Facebook as they jumped from one Democratic party group or page to another spreading lies and rumors in an attempt to smear Patsy Keever, while bolstering support for Randy Voller.
Numerous Facebook groups and pages have been created, while real and fake accounts have been used to create a large-scale astroturf campaign that from the outside makes it look like Randy Voller supporters have more support for their cause than they do – whether it is smearing Keever or promoting Randy Voller or Marshall Adame.
This is part one of this story.
Who the heck is Mary Greene?
The most recent incident tops all others. It features a white man posing as a black woman calling a white woman (not Keever) a racist. At least, that is what the facts of the situation seem to indicate.
I initially became aware of Mary Green when David W Moore added me to the group DEMOCRATIC NC District 3 VOTE Marshall Adame. I don't like being added to groups without my permission, but I've liked Marshall since his 2008 campaign, so I didn't immediately leave. I noticed it had been started by one of his sons, and assumed it was being repurposed from Marshall's congressional campaign.
When I checked to see who the admins were, I found that there was only one and her name was Mary Greene, a woman I did not know. I noticed that David W Moore had added Mary Greene to the account that Monday and then had turned the entire Marshall Adame group over to her. This is highly unusual and I immediately suspected that David and Mary were the same people based on past history with Moore and his sock puppets.
It didn't take long for others to prove me right. The next day a friend directed me to the LinkedIn account of Yvette Perry, who has the exact profile picture of Mary Greene. Others were very quick to this same discovery and started warning their friends about Mary and all of the new groups that had popped up with her listed as an admin. How did so many people fall for this account? As recently as February 3, Marshall Adame had "liked" an endorsement of him posted by Mary, so it would be easy for people to assume she is legitimate. It is important to state here that there is no indication that Marshall had any idea that this person was not real.
Before we discovered that Mary was a fake account, there were a couple of exchanges involving her that raised eyebrows. One occurred when Sarah Anderson, President of Democratic Women of North Carolina, asked Mary to stop tagging the group in her messages. Sometimes people tag a group in order to lend credence to their message.
In her message Sarah requested that Mary:
Please stop tagging the Democratic Women of NC. You are welcome to speak for your local chapter providing they have given you that authority but you may not imply you are speaking on behalf of the DWNC nor that the DWNC is endorsing any candidate.
Mary replied:
Save that for the white women on your site whose vileness you ignore.
Mary then took to Facebook where she left this update, tagging those mentioned:
In the past 24 hours I've had two North Carolina white democrats try to intimidate and threaten me. Sarah Aderson (Democratic Women of North Carolina) & Jay Calendine (Lee County (NC) Democratic Party) You closet racists don't this black woman around. You ain't running no plantation here! GOT IT!
So, how does he pull it off? It appears that Moore creates these fake accounts and makes them administrators of large groups that he runs. After that person is active in the group, it is easy to get people to accept friend requests. Mary, who just joined Facebook this month even had someone tell her how beautiful she is when she uploaded the picture of Yvette as her profile picture. Mary doesn't exist. Nobody knows Mary, yet people see she is friends with their friends and they like her posts and congratulate her for her accomplishments.
Part 2 of Sock Puppets & Astroturf coming soon
Mary Greene's new Facebook (Please click for a larger image)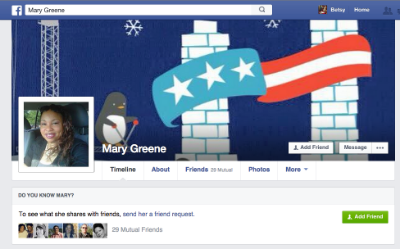 Mary's "borrowed" photo (Please click for a larger image)