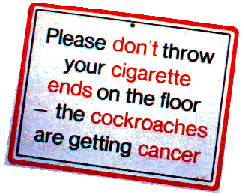 Mark Binker reports tonight that bill banning smoking hasn't gained enough support to satisfy its proponents.
House leaders say they will postpone consideration of a bill that would ban smoking from almost all workplaces that was tentatively scheduled for a vote Tuesday. "We've got 35-to-40 people undecided," said Rep. Hugh Holliman, a Davidson County Democrat and the House majority leader. There are 120 members of the House.

::

The bill would ban smoking in bars and restaurants as well as workplaces ranging from factory floors to office settings. Proponents say it will protect the health of workers. Opponents say it infringes on property owners rights.
If I were in the legislature, I would vote against this bill. I find it too intrusive and would rather let the marketplace do its thing. This position puts me in agreement with free-market maniac John Hood, which goes to show that even a broken Puppet clock can be right every now and then.
UPDATE:

I spent a lot of time with this issues last night and I've changed my mind. I would support this bill and I hope the members of the legislature who are still on the fence are doing the same kind of soul searching. Plus, Greg Flynn delivered the final blow this morning:

Any personal freedoms associated with property ownership are endowed by society and do not trump the personal freedoms of others, with or with property.