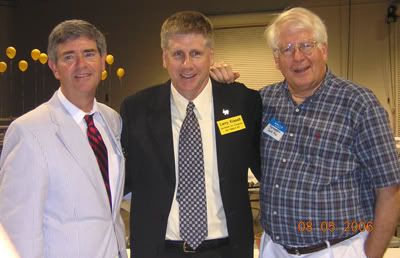 There's a great progressive congressman we don't spend much ink on here at BlueNC even though he gave us our first candidate interview, he votes the way we want him to vote and he supported our favorite underdog candidate, Larry Kissell. Congressman David Price doesn't have a web presense. I'm not sure he needs one. He doesn't seek any attention from us.
Tonight he's going to get some.
Find out why on the flip...
I recently spoke with a friend from the Kissell campaign. As we spoke I meant to ask how much more debt Larry had to retire. I wanted to see if maybe there was something we could do to help.
While we talked about my upcoming visit to FEC reports he told me about something I wouldn't see until the next reports were filed. It's an inkind donation by Congressman Price in the amount of around $2000.
You see, the good Congressman contacted Larry to see what he could do. He decided to make a donation of postage and send a personal note to his friends and supporters to encourage them to help someone he said deserved to be in Washington. That someone was(and is) Larry Kissell.
The Kissell campaign didn't ask him to do it. He approached the campaign. So far, this simple act of kindness has brought in between $6,000 and $8,000 with more coming in.
Thank you, Congressman Price.
Let's show the man some love....

CONTACT DAVID PRICE

Washington Office
2162 Rayburn House Office Building
Washington, DC 20515
Phone: 202-225-1784
Fax: 202-225-2014

Raleigh
5400 Trinity Road, Suite 205
Raleigh, NC 27607
Phone: 919-859-5999
Fax: 919-859-5998

Durham
411 W. Chapel Hill Street
NC Mutual Building, 6th Floor
Durham, NC 27701
Phone: 919-688-3004
Fax: 919-688-0940

Chapel Hill
88 Vilcom Center
Suite 140
Chapel Hill, NC 27514
Phone: 919-967-7924
Fax: 919-967-8324