The conversation in the Lieutenant governor's race has turned to the topic of electability, as well it should. Some of us have gotten bogged down in the back and forth about Dellinger's fundraising while others claim that, regardless of how he came about it, that money makes Hampton the most electable progressive in the race.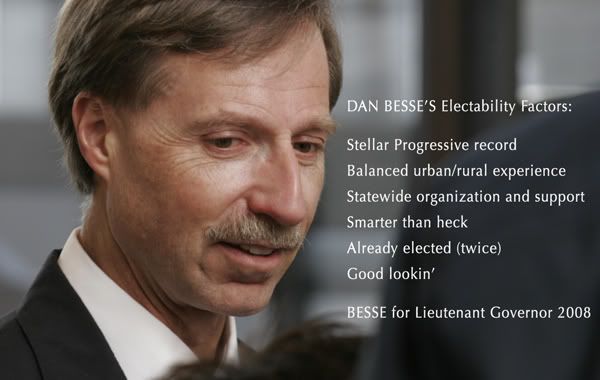 But there are other electability factors in play between my candidate, Dan Besse, and Hampton Dellinger. Let's have a look, shall we?
Besse vs. Dellinger:
 
The same Republican mud will be thrown at both.  But Dellinger is actually less able to defend himself effectively against the political charge of "radical/liberal" than Besse.
 
a) Because he has never held elected office, Dellinger has no public voting record items to point to--votes against tax increases, votes in favor of causes popular with culturally conservative voters (e.g., public safety items like fair pay for police and firefighters).  Besse has some of both--enough to help undercut the credibility of the inevitable Republican mud machine assaults.
 
b) Dellinger's financial base of support is demonstrably heavy with out of state support, an easy target for attack anywhere, and especially so in a culturally conservative state like NC. You think BlueNC has been rough on Hampton for taking all those California donations? Pittenger would clobber him. On TV.
 
c) Dellinger's background--his home base (brought up in Orange, lives in Durham, works in Raleigh), his education (all out of state), his profession (attorney), and his resume (worked as an advisor to Easley, as a Washington lawyer, and as a trial lawyer)--reads like the right-wing wish list of what they'd like to see in a Democratic candidate to oppose.  Those aren't reasons for us to oppose a candidate on his/her merits, but if we're honestly talking about "electability", they are real factors.
 
--Dellinger has no natural base of support outside the areas which will vote for any Democrat--the state's most liberal counties of Durham and Orange. 
--Besse's strongest home base of support is in a county and region that moves between leaning-Republican and battleground:  the Piedmont Triad.  Neither GOP Lt.Gov. contender is from there, so Besse will start with a home base advantage not available to any other Democratic contender (and certainly not to Dellinger).
 
--Besse has the strong advantage of active experience living and working (for a decade) in a poor, rural, eastern area; and the advantage of hands-on experience working with local issues and governance in a growing urban region.  The combination is a politically very saleable factor.  No other Lt.Gov. candidate has both. Dellinger has neither.
 
--Dellinger has more money.  That will be a factor in the first primary--but not much of one in the general election, since the Democratic donor and party base will pitch in to help any nominee for this important office who needs it.  Plus, many of Dellinger's in-state donors are natural Besse supporters, and can be expected to switch to him in either a second primary against Dalton, or in the general election.
 
In sum:  Dellinger is not more electable than Besse in the general election, but rather less. 
 
And if you like Besse better than Dellinger on the merits, then there is no reason not to support, work, and vote for Besse in the first primary.  Doing so will not increase the vote count or percentage for Dalton, and if Besse gets into the runoff with Dalton, all the progressive backers of the non-Dalton candidates will come together for him.
 
The pro-Dellinger "electability" argument comes down to just three things:  money, money, and money.  Progressives should support Dellinger because he has more money.
Progressives should support Dellinger because he has more money?
 
When that becomes the winning reason to favor a Democratic candidate, then our party is too sick to save.  As Sigmon noted in his excellent post, we're actually edging away from that terminal diagnosis:
Things are changing for the better in this arena, in that electability is mattering less and less. And that's a wonderful thing, something almost entirely the result of work by liberals, work that should continue.
This is the year, if there has ever been one, to take that great leap toward equity in our elections.
OUR elections.