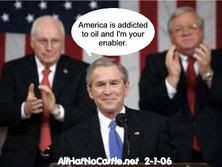 I overheard some college students talking this morning about the new oil discovery in the Gulf of Mexico.
Student 1: Looks like no more oil crisis. Now I can get me a Hummer.

Student 2: No shit. Fuck a bunch of Middle East oil.
According to the NY Times, there could be as many as 15 billion barrels of oil buried deep in the gulf. And according to an expert on NPR this morning, those 15 billion barrels are enough to cover less than two years of US oil consumption.
Idiots all across America will be jumping for joy that their oil addicitons can be stretched out a little longer before the crash comes. Anti-government free-market wackos will say "I told you so" to environmental planners who want to move beyond oil dependence. Big Oil will laugh all the way to the bank. And the Republicans running our country into the ground will continue to do nothing to establish sane energy policy.