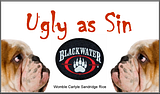 The mercenary scourge that is Blackwater continues to pollute North Carolina's political and cultural landscape with little sign of let up. Fueled by your tax dollars at work, the company appears fully capable of buying whatever influence it wants, including the hired guns at one of North Carolina's most "admired" law firms, Womble Carlyle Sandridge Rice.
To celebrate these "admired" attorneys being only one step removed from the criminal actions of Erik Prince's Blackwater thugs, Blackwater Watch and NC Stop Torture Now have joined forces to sponsor a good, old-fashioned protest at the offices of WCSR in Winston Salem.
One Year Anniversary Protest and Rally Against Blackwater

Saturday, Sept. 13, 2008 4-6 p.m.

at Blackwater's Lobbyist Firm Headquarters:

Womble Carlyle Sandridge & Rice
One West Fourth Street, Winston-Salem, NC 27101

Sponsored by Blackwater Watch and North Carolina Stop Torture Now

For more information email admin at blackwaterwatch dot net
I have long been a proponent of hanging the ugliness of Blackwater around the necks of the attorneys lobbying for them at WCSR, and I hope this creates every ounce of public shame they deserve.
And just in case you need a primer on the mercenary madness, here's a summary from Blackwater Watch.
Blackwater Worldwide, a mercenary group, has a history of killing innocent civilians. In Nisour Square, Iraq, on September 16, 2007, Blackwater "security personnel" shot and killed without provocation seventeen Iraqis civilians, including a nine year old boy.

Blackwater has taken no responsibility for any of the killings. Erik Prince, founder of Blackwater, told Congress one month after the Nisour Square Massacre that he had no knowledge of his men hurting innocent civilians.

Blackwater is not part of the military! It is a business that profits from bloodshed and killing. Its personnel are not accountable to military, civil, or criminal law. One year after the killings, no one at Blackwater has been charged for any of the killings of innocent civilians.

Blackwater used subsidiary business names to apply for its building permits in San Diego to avoid the normal permit process and avoid public scrutiny. Blackwater has done everything in their power to stop the right of the San Diego City Council, the City Attorney, and San Diego residents to say "no" to having Blackwater here, including suing the City of San Diego.

Blackwater is a company that profits from conflict. NO CONFLICT = NO PROFIT! Blackwater mercenaries along the US-Mexico border will seek to profit from border instability. Any minor difference among ethnic groups can easily be exploited by Blackwater mercenaries to intervene and make money.