This morning the North Carolina Section of the American Society of Engineers released the first North Carolina Infrastructure Report Card 2006 at simultaneous press conferences in Raleigh and Charlotte.


Airports, Dams and Roads were given grades of D or lower, Bridges, Drinking Water, Schools, Stormwater and Wastewater got C or lower and only Rail scored over C with a B-. While the State's overall grade of C- is better that the national grade of D the study shows that North Carolina's infrastructure can not support its increasing population at current funding levels.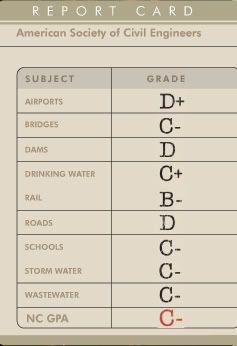 Poor roads cost motorists $1.7 billion per year in extra vehicle repairs and operating costs.
"Crumbling infrastructure cannot support a healthy economy," said Mr Ron Geiger, PE, chairman of the Report Card committe. "We hope this report will help North Carolina residents, as well as state and local officials and policy makers, recognize how the condition of our state's infrastructure impacts our quality of life, and realize how the deteriorating condition of those systems compromises their ability to support the state's economy and protect the natural environment that makes North Carolina so attractive."
State Representatives Bill Daughtridge (R) and Nelson Cole (D) called for bipartisan support for infrastructure investment because of its importance to economic development while noting that some counties don't have water systems, precluding them from participation in the resulting job and business growth and increased tax base.