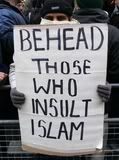 Coming to grips with the influence of religion in secular affairs is not a uniquely American issue. As this story in The Economist points out, the rise of Islam in Europe is upending long-standing privileges enjoyed by Christians.
What has upset the old equilibrium, say law pundits in several countries, is the emergence all over the world of Muslim minorities who, regardless of what they actually want, are suspected by the rest of society of preparing to establish a "state within a state" in which the writ of secular legislation hardly runs at all. The very word sharia—which at its broadest can imply a sort of divine ideal about how society should be organised, but can also refer to specific forms of corporal and capital punishment—is now political dynamite.

That has rendered controversial some things that were once well accepted, like the existence of arbitration services which lighten the burden of the state by providing an alternative arena in which disputes can be settled. As Maurits Berger, a Dutch specialist on Islam and the law, points out, most English-speaking countries have a tradition of dealing with family law through arbitration—voluntary procedures to whose outcome the parties are bound. (Things are different in continental Europe, where the nearest equivalent is non-binding mediation services.)
Coming soon to a culture war near you?
Actually, it's already here. In the RDU airport last week, I overheard a man spreading the familiar lies about Barack Obama being sworn into the Senate using the Koran. Let the crucifixing (the religious version of swiftboating) begin.