I don't know if I moderated or liberalized the debate in Asheboro tonight, but at least I can say I didn't 'conserve' it.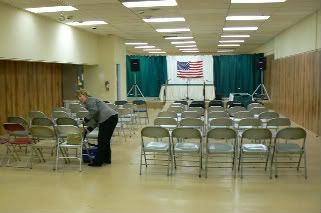 I bought a stopwatch at the mall and was at our new 2008 Randolph County Democratic Party HQ at 6:15. Our people already had the sound system set up, and the candidates all three arrived by 6:45 for a 7PM start. We 'drew straws' for the starting and ending statement order.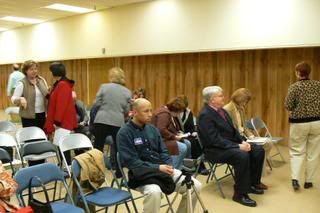 It was drizzly and cold and by 7 about 20 people had arrived-- but only one of our journalists. J.D. Walker of the Asheboro Courier-Tribune was ready to go with her questions-- but we were missing the reporter from the Pilot of Southern Pines. Wayne Abraham, the Chair of the 6th Congressional District committee, assured me that a John Chappell of the Pilot would be here, because he and Wayne had had a lengthy phone conversation. We waited ten minutes, but then I went ahead and started, because J.D. had a 9:30 copy deadline, and we needed to get started. I hoped that the Pilot reporter would turn up, wet and late, but he never did.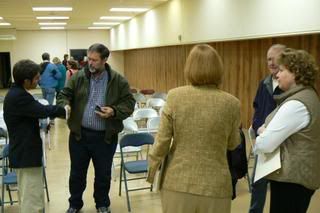 To compensate I gave the candidates (Teresa Sue Bratton, Johnny Carter and Jay Ovittore) 2 minutes to answer questions instead of 90 seconds (actually 90 seconds was usually plenty); I also solicited more questions from the audience (we ended up using about 6 of them); and I also let the candidates ask each other a couple of clarifying questions, in addition to allowing rebuttal time at several points when the candidates focussed on one another's statements or record. This all unfolded surprisingly (to yours truly) well; I especially liked the audience questions (a couple I allowed the writer to explain in person to the candidate, which worked great to clarify a question on employee choice and collective bargaining). And the candidates were good about maintaining a professional tone, even in their follow-ups and rebuttals.


I must say that, once I got it started and everyone got familiar with the process, it became fun. It felt kind of like refereeing a tennis match. 'Your serve, Dr. Bratton;' 'Ball's in your court, Mr. Ovittore,' 'Nice save Mr. Carter,' etc. Until that point, though, I was a nervous wreck, trying to make sure everything came together. You all ought to try it sometime- like, 'here's some silk and thread, now jump out of this airplane and sew yourself a parachute on the way down. You be careful!' Yeah, right!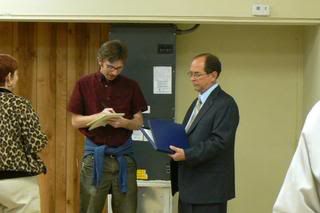 I tried taking pictures, but once it started I was too busy directing traffic and keeping time and reading through audience questions and trying to remember what to do next to take any more. So what I'm posting are all before and after shots. Sorry. And it's taken me a while to learn how to juggle this- first photos on my BlueNC blog!
I will post the link to JD's story tomorrow, and Jordan of Yes! Weekly in Greensboro was there doing lots of interviews (he'll be a questioner next week at the last debate, to be held Friday April 11th at 7 p.m. at the Paramount Theater, 128 East Front Street, Burlington) so I'm sure we'll see something from him one day. And Jay Ovittore told me that tomorrow they will be editing the video from tonight and from the first debate, and will post stuff on Youtube. So there should be a lot of good information out there soon.
Think Katie Couric needs some help with Obama and Clinton later this month?
I'm ready for my close-up now!