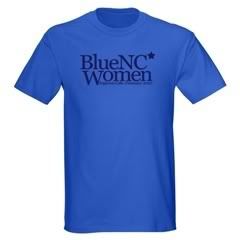 The date for our BlueNC women's lunch, pottery tours and chat with Brad Miller is fast approaching. Look for more information tomorrow and Sunday about details of the day.
One exciting development is the availability of the new BlueNC Women's tee shirt at the Cafe Press Store. Lance designed it to pick up on the BlueNC Logo and added "Jugtown Cafe, February 2007" to commemorate or first gathering.
The price has no added profit for BlueNC and is offered at the base price for this 100% cotton tee shirt of $18.99. It is available in a choice of colors.
If you want something in this design, but would rather have a tote bag or trivet, I'll be happy to see if Lance can work something up. We'll leave this design available for a while after our gathering next week for those of us who would rather spend our immediate budget on pottery.
I'm in for a tee shirt, but haven't decided between green and blue. Please go here to order your shirt.Thank you, Lance!