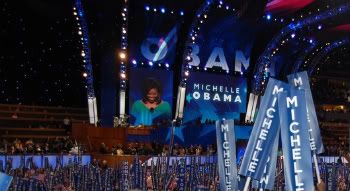 Michelle Obama will hold a free community event in Jacksonville, North Carolina on Tuesday.

Michelle Obama will in the Tar Heels state to host a community event with military families. Mrs. Obama will address the challenges military families face while having a loved one deployed overseas.

:::snip:::

Mrs. Obama will also share the Obama-Biden plan to support our troops and veterans, and provide economic security for North Carolina families.
I did not want to like Michelle Obama. I wanted to see Elizabeth Edwards in this spot. At some point in June or July I found myself admiring this woman more and more. I admire her poise, her grace, her intelligence, her compassion, her sense of humor and her strength.
And, yes, Stevie....she is quite lovely.
From the convention: