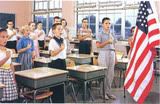 For those of you with kids in public schools, you already know that this fall semester brought with it a new unfunded mandate to classrooms everywhere: reciting the pledge of allegiance. As with most ill-conceived legislative action, this half-baked law comes with a swirl of unintended consquences, some of which are reported in today's News and Observer story by Todd Silberman.
A new state law requiring schools to schedule time each day for students to recite the pledge has revived a tradition right out of a Norman Rockwell painting. But some schools are scrambling to complete that picture by finding flags for every classroom, and some students are questioning the value of a daily repetition as an act of patriotism. Teachers in some schools were unprepared for the change and unsure of what directions to give students.

"We've been pledging to the flag even without the flags," said Tom Humble, principal of Raleigh Charter High School, whose students began saying the pledge on the first day of classes, Aug. 16.

Humble said some teachers had put up pictures of the flag, and at least one downloaded an image onto his computer. The school ordered flags and hardware, at a cost of $623, for each of the school's 30 classrooms.

Hmmm. Let's see now. North Carolina has 2333 public schools. Assuming a low estimate of $500 per school, that rolls up to $1,169,000 to be spent on American flags. In an environment where some schools don't even have basic technology for learning, this seems pretty damn stupid.

Silberman did some good interviewing for the story and even found a few bright students who actually said what they think. Here's my favorite.
I'm a camp counselor, and I say it every day when we raise and lower the flag. But in a public school, it seems like a colossal waste of resources and time. This is a law that it seems to me was passed with the intent of elected representatives gaining political capital.'

This kid's smarter than all the patriotic panderers in the North Carolina legislature put together.