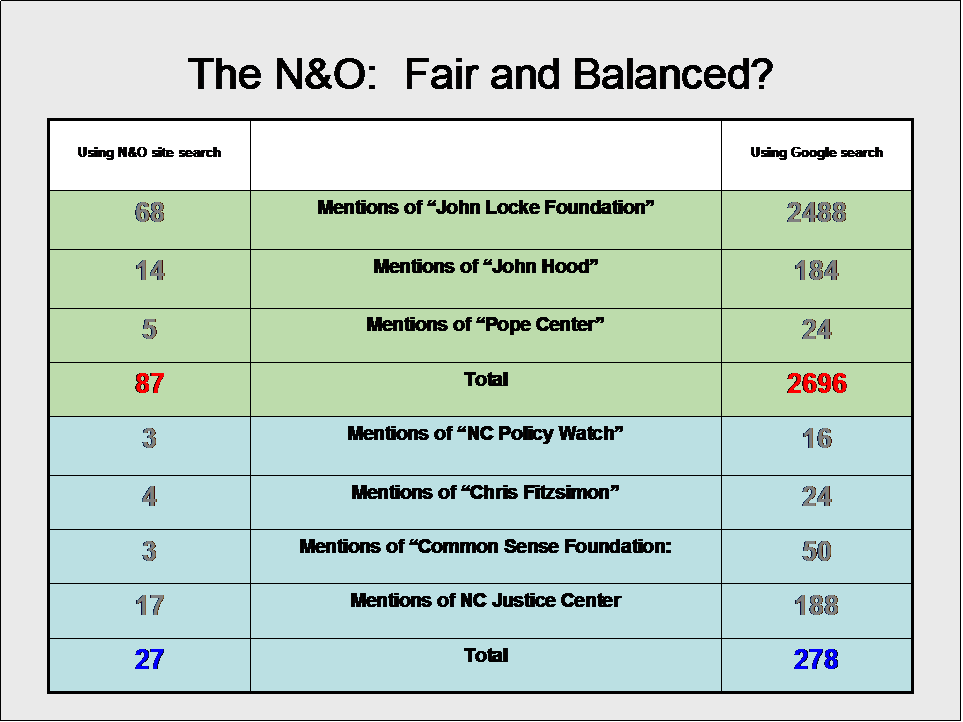 There's an old saying in the world of political journalism: Never start a fight with someone who buys ink by the barrel. I don't know if that advice still applies in the Internet world, but for better or for worse, it's long past time to start a fight with the Raleigh News and Observer.
Why? Because the paper simply isn't doing its job properly. Along with almost every other property in the main stream media, the N&O has gotten lazy and sloppy in ways that cannot be ignored. In particular, the N&O has been entranced by the self-promotional magic of the John Locke Foundation. So instead of critical analysis and healthy skepticism, the N&O regurgitates JLF talking points and "reports" as though they actually say something worth knowing. And while that's an abomination on its face, the problem is even worse. The N&O swallows JLF content like a ten-year-old eating Sweet Tarts, while largely ignoring counter-balancing voices like the Common Sense Foundation and NC Policy Watch. (Click on the image to enlarge.)
When I first brought this to the attention of the newspaper's public editor, he had this to say:
A couple of thoughts. One, the John Locke crowd is constantly churning out stuff -- every day -- some of which finds its way into our paper. I don't know how much stuff Policy Watch puts out. Also, there are other "liberal" centers out there that we do give coverage to -- the Common Sense Foundation, the N.C. Justice Center, the N.C. Center for Public Policy Research, among them. Not sure it's apples and oranges to just compare John Locke and Policy Watch. It's a function of how effective a job each does of getting its message out, and that's in part a function of widely disparate funding.
I'm sorry, but that explanation stinks. Who cares how much money is behind the JLF propaganda machine? Any reporter who used that excuse in any reputable newsroom would be terminated with extreme prejudice.
Now that the N&O and the Charlotte Observer are joined at the hip, we can expect this problem to get worse before it gets better. So I hope you'll join me in becoming one of many squeaky wheels calling on the N&O to work to regain some of its dignity.