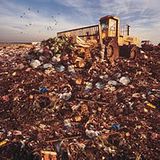 The News and Observer does a good job today covering the push by waste management companies to buy the heart and soul of North Carolina to site their mega-landfills. Here's my Saturday morning quarter-backing:
Some legislators say the state needs to stop and think about whether North Carolina wants to become home to a group of huge landfills.
Really? Stop and think about the future? There's a novel idea, but don't expect it to gain any traction with the free-market anti-planning government-haters who'd happily sell our state to the lowest bidder.
But an effort by the Senate to call an 18-month hiatus on reviewing or permitting landfills has run into a small army of lobbyists for the waste industry working to derail the effort in the House. Six privately owned landfills proposed in rural Eastern and Piedmont counties, if approved by the state, would make North Carolina one of the nation's top five importers of garbage.

The largest, proposed in Camden County by Raleigh-based Waste Industries, would bury up to 3 million tons of trash a year -- creating a mountain of trash 270 feet high, taller than Jockey's Ridge in Dare County. Much of the trash would be shipped in by truck, train or barge from states as far away as New York.
This must be a master plan to combat global warming! By making eastern North Carolina 270 feet tall, all the good folks down east will be able to live atop Waste Industries dumps when the sea level rises! Yummmy.
State senators last week unanimously approved a freeze on permits for new landfills until Jan. 1, 2008. But as the legislative session winds down, the House is divided on the issue. On one side are House members who say the proposed "megafills" would turn the state into one of the nation's top importers of trash and pose uncertain threats to coastal waters. They say an 18-month pause is needed to give lawmakers time to review financial requirements for landfill owners and design standards for landfills in flood-prone areas and other regulations.

"The Senate sent us a signal 48-0, and we need to pass the moratorium," said Rep. Pricey Harrison, a Greensboro Democrat.

On the other side are some House members from rural areas where the landfills would be. They say a moratorium would not be fair because local governments have invited the landfills and the solid waste companies have spent money planning the facilities.
That's just too rich. Poor old millionaires running Big Trash companies, spending their hard-earned money planning facilities before they have permission to build them. If that's how they run their businesses, imagine how they run their landfills!
Rep. Pryor Gibson, a former chairman of the House Environmental and Natural Resources Committee who often handles environmental legislation for industries, doesn't like the Senate bill. Gibson, a Wadesboro Democrat, is pushing a bill that would allow five of the six pending landfills to proceed. The sixth, in Camden County, could proceed if it reduced the volume of garbage it held. Molly Diggins, director of the Sierra Club's state chapter, called that a false moratorium.

"All such a proposal would do is make one of the trash mountains a little smaller," Diggins said. "It keeps us on the track we're on to make us the trash dump of the nation."
I wonder if Gibson has some elusive financial interest in these deals. Sorry to be so cynical, but why else would a former chairman of the House Environmental and Natural Resources Committee be so hot to trot over landfills?
Lobbyists at work

The companies proposing landfills have about 25 lobbyists trying to block a moratorium. "There are a lot of folks from the industry sharing the story to those who are interested in listening," said Greg Peverall, a solid waste consultant from Winston-Salem who is involved in trying to put a landfill in Scotland County. "It takes a lot of spokespeople to bring the discussion to a level where people can make educated decisions."
An army of lobbyists with a ton of money. It all reminds me of the Puppetmaster who claims his electioneering is nothing but "education." I guess if you spend enough money you can "educate" anybody to believe anything! And of course, you can also buy elected officials for chickenfeed:
This spring, the Waste Management Political Action Committee, in Washington, D.C., contributed about $10,000, mostly in sums of $1,000 and $500, to 12 House members, most of whom serve on the House environmental committee. Executives of waste companies also have given to several House members. Gibson's most recent campaign finance report, dated July 10, showed contributions of about $4,400 in April and May from industry executives and the political action group -- the most of any House member. Gibson said he had returned six contributions and planned to return two more.

"I sent them back because I didn't want anybody to think there could have been anything inappropriate," he said.
Don't worry Mr. Gibson, we'd never think that.
Cheap land

Private solid waste companies are drawn to North Carolina by its cheap rural land, the absence of a surcharge on garbage that some other states levy, and the state's central location on the East Coast. In addition to Camden County, landfills are proposed in Hyde, Columbus, Brunswick, Richmond and Scotland counties.

Solid waste officials say a moratorium could lead to a shortage of space and higher disposal costs for local governments. But state officials say a moratorium would not affect North Carolina's ability to handle in-state trash because most of the waste at the new landfills would come from other states. At the current disposal rate, North Carolina has about 18 years of landfill space, the state says.
Go read the rest of the sordid story and you'll see that, as usual, this debate is all about money. Legislators who want to sell NC to the dumps argue that the landfills will bring much needed income to their districts. Nevermind the possibility that they'll trash their districts along the way ... because money is king.
In closing, I put on my hat as an experienced business person and offer the following advice to the Pro-Dump Legislators: You're not charging enough for your land and for your integrity. You've already proven that you're willing to prostitute yourselves to bring corporate money to your districts. But with all the demand you're seeing from Big Trash, it's obvious that you're underpricing. It's bad enough that you're willing to be whores, but do you have to be cheap whores? I'd say it's time to raise your rates.