Terri Protts, the Director of the Department, gave us the presentation. She made it entertaining and made sure we paid attention by giving us a sheet of words in a Bingo format. Throughout her talk if we heard these words, we were to cross them off the sheet calling out "Bingo" when they were crossed off in a row.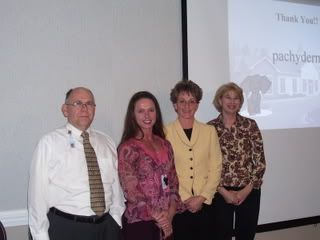 This department has been serving adults over 60 in Moore County since 1984. To date, they have 19 Full Time, 4 Part Time employees and 160 volunteers. Their motto is "To Provide services that promote the well-being of older adults." They have an annual budget of $1.3 million plus grants and funding through a number of sources including contributions from the community.
Their In-Home Aide Program provides three levels of care, Home Management, Bathing Assistance and Respite for Caregivers. These services include simple laundering, light housekeeping, running errands and meal preparation in the Home Management level. In the next two levels, they help with bathing, dressing, feeding, ambulation and toileting along with relieving the caregivers whenever the nursing assessment believes it is needed.
Congregate meals or "The Diner's Club" is available to residents 60+ provided Monday through Friday. This affords seniors a social atmosphere along with a nutritious meal, transportation to the center is provided through the Moore County Transportation Services, Inc.. While at the center, each senior has access to exercise equipment, crafts and an RN (quarterly). Home delivered meals are also available to those not able to take advantage of the Diner's Club program.
Legal Assistance, made possible by a grant from the Triangle J Area Agency on Aging provides those in need with help in the areas of elder law, estate planning including wills, power of attorney, living wills and health care proxyies.
The Aging center has a fitness room available to residents 50+. Orientation is required before using their commercial grade equipment. They also offer exercise classes and have a fully trained staff person on site.
The Senior Health Insurance Information Program (SHIIP) provides assistance with Medi D, supplemental insurance and Long Term Care insurance. They can not recommend specific options but can inform them of programs and choices available.
The Family Caregiver Programs provides training and educational services for both the caregiver and professionals. There is a video and book lending library also available at the center that provides tools for the caregiver.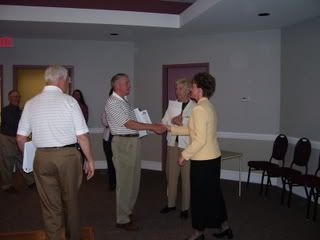 Limited funding to provide construction of wheelchair ramps, install safety and grab bars is available. They can also provide smoke alarms, carbon monoxide detectors and emergency flashlights for seniors in need.
Don't toss out those old cell phones, donate them to your local Department of Aging. They distribute them to seniors without home phone service because these phones, when charged, may be used to call 911 in an emergency.
This is another department providing many needed services to County residents using their budget as creatively and efficiently as possible.